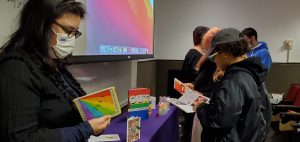 Students shared their experiences with navigating queerness at the multimedia show last Wednesday.
Queerly Creative showcased students' reflections on films they watched for the LGBT Documentary-Understanding Social Movements course. Current and former students shared their experiences of being queer through zines, poetry, art and videos. Tami Gold, a film and media professor, created this class to increase the awareness of LGBT history. 
"What we want to do is tell students who are questioning and trying to understand gender and sexuality that coming here and seeing the presentation of artistic work is a way to learn in a situation that's not threatening at all," said David Pavlosky, a film and media studies adjunct professor who teaches the course with Gold.
The exhibition also presented how intersectionality such as race and class affect individuals who identify as LBGT+.
"Where do I go, to whom do I turn. One values my skin, the other my love," said Pierre Sanon, an English and social work major, as he read from his poem. 
For Sanon, life was a struggle between his allegiance to the black community where he experienced homophobia and his ties to the LGBT community where he faced racism. 
This class was a safe space to explore his identity. His presentation of poetry focused on his experiences of being black and queer, while his digital art featured his take on an updated pride flag as well as a pride flag made of drag queens. 
Sanon said he felt seen when Giftson Joseph, a queer Haitian filmmaker, visited as a guest speaker. 
"Seeing Giftson be so openly queer and proud of his Blackness, that was the first time I had seen that in my life," said Sanon. "Having those moments of validation, changed the trajectory of how I viewed myself, and how I started navigating the world."
Helena Barry, an alum who graduated last semester, shared poetry from her journey of discovering her identity and the people who've helped her along the way. Barry used to want to "hide and reject" her queerness. LGBT communities were hidden with only a handful of members during Barry's high school years. The warm and welcoming community created in this class made Barry open up and acknowledge her identity as non-binary. 
"I was just so surrounded by other students who were queer or at least queer allies, and they were just so nice that I was like, 'What am I so afraid of?'" said Barry.  
Pavlosky said there are many ways for the Hunter community to provide an inclusive space for queer students. This includes asking for pronouns on the first day of class so students are safe with their own identities and fostering an open environment where people can ask questions and learn about concepts such as gender and sexuality. 
Pavlosky also said the course is for all queer students who are in search of a community as well as allies or people who are interested in the history of the LGBT community. The three-credit course is offered every fall and spring semester.
All the zines from the exhibition can be accessed through the film and media website. Students can also watch LGBT films on Kanopy through the library's website.