The good news is that the dance workshop spring concert will not be on Zoom. The bad news is that the tickets for Friday's and Saturday's performances at the Peggy Theater are sold out.
During Wednesday's rehearsal, the dancers' anticipation of the performance was palpable. Their bare feet stomped and squeaked on the polished, wooden floor while the choreographer shouted occasional corrections. They were tired and hungry after hours of rehearsal but happy to be together. 
With no masks on, the heavy breathing in the room was an audible connection between the dancers — a luxury these students did not have before COVID restrictions were in place. This weekend's evening recitals will showcase the choreography of 17 dance majors and their classmates.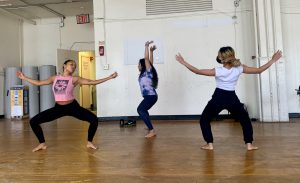 One of the pieces that will be performed was choreographed by senior Rachele Domond. She describes her piece, "Humble," as the portrait of her life.
"It actually represents my life as a dancer from 8 years old to now," Domond said. "There's a lot of symbolism, like how the duets, trios and solos represent time periods of my life."
For two years, auditions were held online, most concerts were virtual and some shows would only take place with dancers wearing masks. Students posted their recorded creative work online, learned to move by watching others through a screen and interacted with each other from a distance.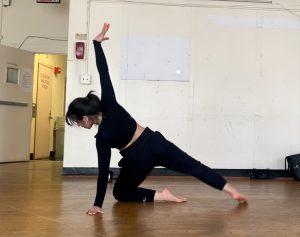 "Being a dance major online was really hard," Domond said. "We're in a field where we're constantly around people's energies. Now we're back and our talents never left."
Junior Sahamanta Ojeda, one of the dancers in Domond's composition, finds this show particularly unique because of the representations of culture.
"The show has a lot of diverse dancers like Spanish people or people with African roots, which makes this all the more special," she said. "Just wait to be surprised."