Last Friday, TEDxCUNY participants learned how mindful awareness can help shape a more optimistic future. Queer Afro-Latinx poet, activist and word mentor Gabriel Ramirez led the virtual session.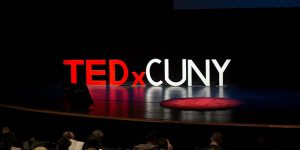 Having grown up in New York City, the birthplace of hip-hop, Ramirez was exposed to forms of poetry from an early age. The first time he performed in front of an audience was at Urban Word NYC, a spoken word program for teens that he now oversees.
Ramirez's works, like his popular poem "Black Boy Auditions For His Own Funeral," often explore identity, mental health, family and race issues. Some of his writing has been published in publications such as "¡Manteca! An Anthology of Afro-Latin@ Poets" the first anthology of poetry by Afro-Latinos and "The Breakbeat Poets Vol. 4: LatiNEXT," which celebrates the embodied narratives of Latin words.
In spite of his accolades, including fellowships at literary festivals, performances at Lincoln Center and a feature in the Huffington Post, Ramirez remains committed to his mission of healing himself and others through writing.
"I want this workshop to be about reflection and I also want the workshop to be world-building," says Ramirez during the event. He focuses on personal growth to create change and reflection in both adversity and victory – especially in these COVID-19 times.
From reading Langston Hughes' "Freedom" to Franny Choi's "Field Trip to the Museum of Human History," the two-hour event included many emotional moments.
One such instance was when attendees watched a YouTube clip that featured the legendary singer-songwriter, Nina Simone expressing what freedom means to her. "I have had a couple of times on stage when I really felt free and that's something else, that's really something else," says Simone in the 2016 video. "I'll tell you what freedom is to me… no fear."
For Ramirez, it is important that individuals find what freedom means to them. "Freedom is the goal," he says.
The poems presented in this event vary in the time they were written, but they all touch on a common theme: the power of words in shaping a better future.
In the past year, the devastating effects of the pandemic have highlighted the importance of connecting and building communities. In a recent interview on poetry and mental health with The Jed Foundation, Ramirez reflects on his experience teaching poetry to students during the COVID-19 epidemic as a tool for hopeful living. "I've been teaching virtually through the pandemic. My goal when it comes to my workshops are to build people's confidence, boost their self-esteem and to give them something that they could actually walk away with," says Ramirez.
Much like in this workshop, Ramirez uses poetry as a means of self-expression and mindfulness – providing an environment that fosters a sense of local identity among the students.
To wrap-up the workshop, Ramirez played a 2016 spoken word performance by African-American poet Danez Smith. "Principles" is a poem that speaks on the Black Lives Matter social movement and the Black identity in America. "We could be looking at one poem, but with 14 different people here those are 14 different poems and 14 different perspectives," says Ramirez as he noticed the wows, the hand-clapping emojis and even the un-muting of a few mic's because the students were so moved by Smith's performance.
"Thank you for being here and making it what it was supposed to be," says Ramirez.