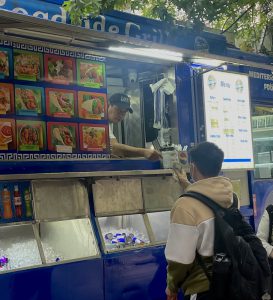 When Bart Halibart, a biochemistry major, stopped by campus this past June, a worker at the Hunter Halal Food cart gifted him a free meal. "He didn't give a reason. He just smiled at me and said, 'Here you go, free food for you,''' said Halibart.
A small interaction from months ago, and yet this small act of kindness remains fresh in his memories. This connection is one a lot of students can relate to. The men who work on the halal carts around Hunter College have been providing friendly smiles and warm meals for decades.
"I see students from like 10 years ago. They [are] always like 'Hey! How are you doing?' It's really great when I see them," said Victor Amasdel who has worked in front of Hunter for almost sixteen years at The Roadside Grill.
Prior to the pandemic his business was thriving. "Before the coronavirus, it's very busy. We are so crazy. We started early in the morning, like nine o'clock to seven o'clock. We don't stop," said Amasdel. "We don't eat. We don't even get lunch or use the bathroom, working it straight, so busy. But right now," business has slowed.
The carts depend upon the Hunter College community. "The difference between class and no class is a difference of like 85%. We would make 15% of what we used to make if there's no school," said Alex Kwan, co-owner of the Asian halal cart Terry and Yaki. "They are pretty much our business, so we are really grateful that they're back."
Terry and Yaki will also be back on campus full time this November. A new truck is in the process of being built that is specifically for Hunter College, which will come with a new item on the menu, the "Superfood bowl"— its signature chicken teriyaki stir fried with kale, purple cabbage, and carrots served on top of white rice — will be exclusive to the East side location.
Their cart has been sorely missed by the students. "We've been getting a lot of emails and messages in the past three, four weeks. Students keeps saying 'Oh we've passed by and you haven't been here in three days, we hope you haven't left, please come back,' and it breaks our hearts," said Kwan. "The students are great. They are our best customers."
All of the workers are thrilled to see the students return to campus. "When the people come back, the life comes back," said Hasan Mohammed, who sometimes goes by Khalid ("Like DJ Khalid"). He has worked at the Hunter Halal Kitchen for 10 years and loves the community here. "I have a lot of friends from the college," said Mohammed. He missed the students after the shutdown, but little by little they are coming back.
For junior Bart Halibart, the chicken over rice from the Hunter Halal Food cart, a family owned business by Elsayed, who uses only one name, was what he missed most. "It was just a comfort meal. I had it right after class, or in between classes I would grab it quick." Now that students are back on campus, this sense of routine is slowly returning. Business is not what it once was pre-pandemic, but all of the carts are ecstatic that students are back on campus and hope it will improve.