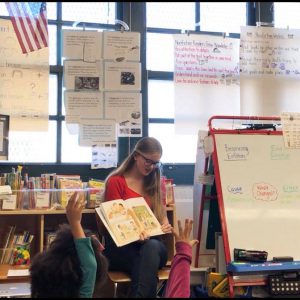 Hunter College student Julia Seiber wrote poetry throughout the pandemic and found herself being inspired by the nature outside of her Queens apartment. She would open up windows and push the tables away. From her chair, she'd observe the pops of greenery of the new growth in Murray Park across the street for half an hour. "I live in a neighborhood with a lot of historical brownstone and I have recently become inspired by the wet texture," said Seiber. "They almost feel blue to me."
This observation inspired Seiber to write about her solitude and past experiences. In one piece she wrote about her birth defect, syndactyly which causes fingers to fuse together. "I wrote about that phase in my life as a child and how much I hated my hand," said Seiber. "I wrote a line where I said, if I could I would cut it off with a safety scissor."(Listen to Seiber read "Syndactyly" here.)
Prior to the pandemic, she wrote about arguments with her biological father and or the highlights in her life. She has now shifted to exploring poetry revolving around nature as well as looking for a deeper outlook and putting more consideration into her work.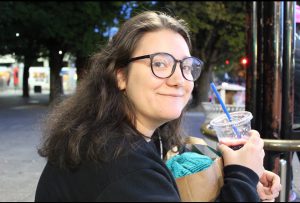 Seiber isn't the only one to seek comfort through poetry over the last year. Poetry Foundation saw a 30% increase in website visitors from last December to March of this year, according to a report on SimilarWeb. For some Hunter students writing poetry became an empowering outlet where they could control their feelings during a time of unknowns.
Human biology major Rummana Afrin became more motivated to write poetry during the pandemic as a way to self-reflect. She said before the coronavirus lockdown occurred, she got easily distracted by people. The solitude gave her time to better understand herself. 
Afrin said the isolation set off an awakening where she developed a love for writing poetry. With the lack of interaction with people, she discovered a knack for being alone.
"Writing poetry became a way to get my thoughts out there and to express myself when I had no one else with me," said Afrin. She expressed these ideas in her poem called "Snowflake."(Listen to Afrin read "Snowflake" here.)
Hunter College's Olivetree Review editor Sheena Rocke stayed creative over the past 18 months and wrote a poem called "Perseverance," depicting her persistence to write during the pandemic. She said the difficulty has been workshopping pieces for other students. With the publication moving to a mostly online environment consisting of Zoom calls and a Discord chat, Rocke said the person-to-person connection dipleated. This caused Olivetree Review to not have any poetry slams over the past semester. (Hear Rocke read "Perseverance" here.)
"We didn't know how to organize them and we questioned if they could have been done," said Rocke. "Everybody became overwhelmed so we haven't done one." 
Double major and elementary school teacher Avery Adams said her creative spark comes from observing people. One of her biggest inspirations developed by watching how a person follows covid guidelines. "Watching how the coronavirus affected people became really inspirational, when it came to seeing people following health rules," said Adams. She said this seemed especially strenuous when she moved in with her father in Maryland where she stared into the woodlands. 
Adams also said poetry allowed her to reflect on herself during the pandemic. "I love to match my emotions with art, I matched my poetry with how I felt," said Adams. " In another way it brought about a lot of self-criticism, it allowed me to pin down what stressed me out."
Prior to the pandemic, Adams wrote countless amounts of poetry but isolation made it hard for her. Events like the election made it difficult to create because her mind became obsessed with the state of America. Adams also wrote a poem about aesthetics where she talked about the ending to the Avengers movie franchise.  (Listen to Adams read her poem here.)
English major Steven Coronado said writing about his isolation with a unique perspective became a difficult task. Coronado indulged himself with cartoons, animations and tried to draw inspiration from it. Before the pandemic, he wrote more nonfiction pieces where he would talk about his experiences. When it came to poetry, he had the hardest time expressing himself. Coronado wrote a poem called "Fear Honey," where he addressed his thoughts throughout the coronavirus. (Listen to Coronado read "Fear Honey" here.)
 "It's like the math part of English, you sort of have to find the correct words," said Coronado.