Freshman Avi Mikhaylov launched the Hunter College chapter of the Unmasked Project, a national movement and app across many college campuses, in March. Originally started at Dartmouth College, the app is run entirely by students and acts as an outlet to vent mental health frustrations.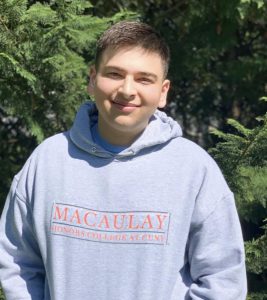 An American Psychological Association study found that about 42% of college students struggle with anxiety and 36% with depression. For many of these struggling students, time and money might be reasons therapy isn't always an option.
"Hunter is a commuter school and it can be hard to create a community that supports each other," said Mikhaylov.
There are currently about 90 active users on the app and eight trained moderators. The app's main feed is for anonymous messages from students on academic struggles, mental health milestones and other positive affirmations. A few weeks after launch, the official Unmasked Instagram page posted a thread about academic pressure by a Hunter student. For some messages, moderators add trigger warnings to ensure the app remains a safe and productive space.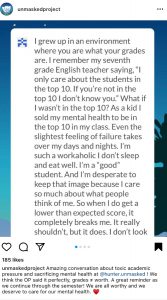 To sign up, students use their official Hunter email address. Once verified, they can start using the app. Similar to other chat room forums, anyone can reply to a post and the newest messages appear at the top.
After a 90-minute training paid for by Unmasked, moderators learn how to identify a mental health crisis that needs professional attention, what requires a trigger warning and how to respond directly to users in an appropriate way. 
"The training makes you realize you're not a mental health professional and you can't give advice in that way," said psychology major and moderator Aysha Khan. "You just need to be human and empathetic."
Like Khan, other psychology majors expressed interest in the app as a means of kickstarting their field work. Professors in the psychology department at Hunter reached out to Mikhaylov on behalf of students wanting to be moderators. Instead of going outside of Hunter for opportunities, they'll be using their skills to help their fellow peers. 
Besides the app being a place to connect, students also receive contact information for mental health resources at Hunter and in their area. Since the beginning of the pandemic, the Hunter counseling services launched two new support groups, Inequality and Injustice: Connecting Through Conversation and Processing the Pandemic.
Similar to Unmasked, the drop-in groups create a virtual space for students to connect with one another. These groups were created in direct response to a reported increase in Hunter students experiencing anxiety, feelings of isolation and grief, said director of counseling and wellness services Martin Pino.
"CWS will continue to offer virtual counseling and workshops to ensure that all Hunter students have access to mental health support when they need it," Pino said.
What sets Unmasked apart from other mental health initiatives is the anonymity. The students' and moderators' names are not listed and their icons automatically change every time a message is sent. The students remaining nameless doesn't stop them from connecting and finding community. It actually allows for them to be unscripted and completely themselves, according to freshman moderator Laila Gad.
"I messaged a person after she posted about the music she liked and now we're friends," Gad said.
With more students expressing interest in both using and helping to run the app, Hunter Unmasked plans to expand. Mikhaylov, the founder, and the moderators are working directly with Unmasked Project representatives to bring the app to other CUNY campuses. This summer, the Hunter chapter will aid in other colleges' launches for the fall. 
"We're thinking of also doing a CUNY-wide Unmasked page," said Mikhaylov. "Even though, for example, Hunter and Baruch are different colleges, we're still a part of the same system."
As for Hunter specifically, the group of moderators will be recognized as an official Hunter club at the beginning of the fall 2021 semester. The group hopes to have regular, possibly in person, meetings open to the entire college. The meetings will center conversations on mental health and first aid training.
No matter how much the app changes, the team's goals of connection and destigmatizing mental health are always at the forefront. The app is only a starting point. 
"Although it starts anonymous, it gives people courage to talk to people in real life about what's bothering them," Gad said.