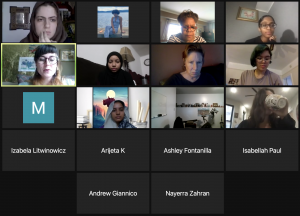 NYPIRG pro bono general counsel, Elaine Wood's eyes were fixed on the students. Her voice echoed through the quiet Zoom call as she spoke about the plight of women for equal representation under the law.
"The sexual abuse of women was just not on the table when laws against extortion and the sort were made," said. "Women were not considered to be 'of value.'"
Women are still disproportionately affected by sexual abuse, according to Legal Momentum moderators, who met with Hunter students during an event organized by NYPIRG to discuss sexual assault/abuse laws. 
Some include include sextortion–exchanging sexual favors for something in return–and commercial sexual exploitation, which refers to the sexual exploitation of someone by exchanging sexual favors for food, money, clothing, or housing. 
"Knowing your rights ahead of time always helps," said Wood. With pandemic-related spikes in sextortion and revenge porn cases, being aware of these rights and options available to you are critical in keeping yourself and others safe.
Moderators clearly define forms of harassment such as sexual abuse, sexting, sextortion and commercial sexual exploitation. As well as encouraged open discussion about the significant role social media has played in the evolution of abuse, and how to keep themselves and others protected.
"The last thing you wanna be doing is arguing litigation after the fact, when you can protect yourself in advance," Carol Moody, a representative from the Hunter NYPIRG chapter said. 
The theme of protection came up quite frequently in a discussion centered around the rights one has in the face of a potential case of sexual harassment. Especially when the topic of sending explicit nude photos was brought up. 
"It is illegal to share explicit photos without consent. It is called unlawful dissemination or publication of an intimate image" said one of the moderators Anissa Weathers, explaining that unsolicited d*ck pics are in fact a violation of the law, which means you can seek legal counsel to potentially prosecute the sender. 
Students and moderators agreed that a good method of protection would be not including identifiable features–your face, tattoo, or birthmarks–in explicit images that you choose to share with someone you trust.
A student shared a recent trend in which sex workers were posting faceless, explicit photos of themselves online. Then if someone else had a naked photo shared without their consent that did not include their face, the sex workers could say it was theirs, so to protect the reputation of the victim. "Consent goes both ways" said moderator Ayah Elasayed.
Every school is required to have a Title IX coordinator, someone who is educated and familiar with the legislation and how to address cases of sexual assault or harrassment within schools. The coordinator for Hunter is John Rose.  
The group closed out the meeting with an affirmation of their worthiness of protection: "I am strong, I am smart and I deserve respect."