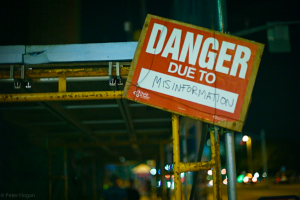 Scrolling through his Twitter feed one night, Jack Stiglmeier saw a post about Quibi's newest reality TV show, "Jack Sparrow House." Stiglmeier, a Hunter college student and NYPIRG intern, was enthralled and read on to find that the now-canceled streaming service produced a show where 14 Jack Sparrow impersonators were living in a house together,  "Bachelor" style. He shared it with his friends, blown away by the odd concept. It wasn't until later that he learned the show had been completely fabricated.
 This past Friday, NYPIRG hosted "Fake News, Real Consequences" a media literacy workshop for students about disinformation and democracy. Professor Sissel McCarthy served as the keynote speaker, teaching students about the danger of misinformation and how to spot it.
"We are inundated with misinformation and disinformation on social media and really all over the internet every single day," says McCarthy, Hunter's journalism program director and a professor of news literacy. "That's why I believe fervently that there is a huge need for teaching news literacy beginning really as young as elementary school and then all the way through college." 
In her presentation on how to discern between fake and real news, McCarthy stressed the importance of lateral reading, a method of checking the veracity of one's sources, in a world where, as she says, "anyone can post anything on the web." In light of the recent election and all of the disinformation regarding it, McCarthy emphasized the need for people to make sure they are consuming and sharing news that is based in fact. "In this digital age, you are in charge of determining what is reliable and what is not," says McCarthy.
McCarthy and NYPIRG interns led the workshop, teaching the attendees how to spot false information and running through a few examples from recent media. One particular example, the Cambridge Analytica data-mining scandal, was especially disconcerting to Andrea Stone, a NYPIRG member from SUNY Purchase that was attending the event. The right-wing owned data firm mined information from unsuspecting Facebook users prior to the 2016 presidential election. "This is something straight out of a science fiction story," says Stone. She says she attended the event to be a more informed news consumer "To me, it was important to know more about fake news," says Stone. "I thought attending this event would be beneficial not only for me but for others I talk to." 
Stiglmeier says that's exactly what he and his fellow NYPIRG interns had been hoping people would take away from the event. "We saw a lot of the same misinformation from the 2016 election being circulated and we felt it was important to start educating news consumers," says Stiglmeier. "We want everyone to have the info they need so they become motivated to get out and make an educated vote."
Stiglmeier says Hunter's NYPIRG chapter hoped to make the event a biannual occurrence so students would have a more full toolkit for when it came time to confront fake news. He also says that his goal is to get people of all ages the tools they need to be educated news consumers. "My 88-year-old grandma from Texas came to the event and now she wants to share what she's learned with her friends," says Stiglmeier. "If she can walk away with these tools and share them with her friends, I think that's a win."