Henry A. Wallace would have been the perfect candidate for the 21st century. A loud anti-fascist, workers' rights, anti-segregation and open-minded leader, Wallace' legacy compares to today's political champions Alexandria Ocasio-Cortez and Bernie Sanders, says author, historian and journalist, John Nichols.
The Washington correspondent for "The Nation," Nichols tends towards political and economic injustices. His past work focused on the theft of the presidency in 2000, the effects of war and capitalism in America and the distrust of the media. In his most recent book, "The Fight for the Soul of the Democratic Party," Nichols explains the complexity of Wallace's progressive political views in the 1940s, and how America is still fighting for those same rights today.
As part of the fall webinar program at the Roosevelt House, Wallace's grandson interviewed Nichols on Zoom for the Hunter community. The environmental lawyer said his grandfather would be a proud radical today."Trump's value's are the antithesis to my grandfather's beliefs," David Wallace Douglas said.
During the interview, Nichols dived into the current state of the democratic party and the path forward through the teachings of Wallace's legacy. Wallace was FDR's right hand man when he served as Secretary of Agriculture and later his Vice President. Had Wallace not been pushed out in 1944 by conservative opposition for re-nomination as VP, his New Deal vigor and fight for structural change could have been transformative for post-war America.
"He would be a huge fan of the Black Lives Matter movement because of their focus on structural racism." He said, "He was never discouraged by changing times." A controversial leader during and after WWII, Wallace fought against the exploitation of workers and their land overseas while sourcing weapons for war. His anti-colonialism and anti-imperialist tendencies did not win him any popularity votes with his adversaries or the administration he worked for.
A proud farmer and scientist, Wallace did not consider himself a natural politician. As a well-read, deeply thoughtful man, his curiosity and the compulsion to understand what he did not know or agree with put him at ends within his own party.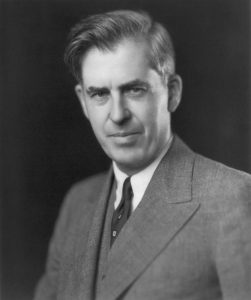 During the webinar, Nichols and Douglas stressed that the Democratic party needs to get back that Nichols describes as"New Deal-style vigor." During the question and answer portion of the event, three viewers, identified as Dan, Irving and Susan, all voiced similar concerns: Does Joe Biden have the ability to lead openly as president with all of the challenges that America faces?
Nichols answered that in order for Biden to be successful he will need to be open to structural shifts. "There needs to be a New Deal response," he said. Movements and moments have the ability to turn him into the president they want. "People can be made by movements," he said.
At this critical time in America the party needs to be transformative rather than managerial, Nichols said. The party "pulls its punches when it should have thrown them" in many scenarios and the next president needs to be open to structural shifts," he said.