Slated to graduate in 2021, Diana Cruz, a junior double-major in theatre and journalism, wants to finish her degree but she doesn't want to do it through distance learning.  
"Depending on my motivation and what happens between now and then will determine my decision to register," Cruz said. "As of right now, it's fifty-fifty."
May 6 marked the beginning of registration for the fall 2020 term, and Hunter College students are taking into account whether that semester will be based on remote learning, like this one was.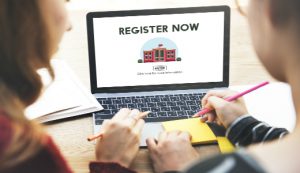 "We don't know—at this point, nobody knows," Robert de Luna, Hunter's assistant vice president for communications, said about the school's plan for the fall semester. Since this is decided at the state level, he said Hunter is "preparing for all eventualities." 
In a recent Daily News op-ed, President Jennifer Raab wrote that the college's remote summer school is meant to "fast-track" students' education. "We have taken this opportunity to assess and improve remote teaching," she wrote, adding that there "actually are advantages to online education."
Students like Cruz don't disagree but she says that it "is not exactly a great way to learn" for her. She blames her surroundings for being distracting as they're "100% more comfortable." 
"I feel class is more beneficial when taught in person," Cruz said, adding that interactions with classmates are both less frequent and less helpful now.
The cost of tuition is another concern for students following the transition in March.
On the first day of online classes, the college community Free CUNY created a petition that demanded a full refund for the spring semester. The petition, with over 500 signatures, suggests students "are not getting the education they signed up for" and should be allowed to de-enroll without facing academic penalties.
"I would like to take the semester off if we're online, but don't know how it will impact my financial aid," said freshman political science major, Nastasia Radulov. 
She says her academic scholarship only applies for eight consecutive semesters and will "go to waste" if she doesn't attend. Radulov also receives the Excelsior scholarship, whose policy for students affected by COVID-19 depends on students' respective universities.
"Excelsior is intended for students with continuous studies," said Hunter official de Luna. While he couldn't answer about the scholarship for the fall semester, he urges that students carefully consider de-enrollment as "they may lose eligibility." 
Radulov will register in hopes that classes will be on campus in the fall, but she's considering going abroad if they continue remotely. "This was my first year at Hunter, and since half of my first year was already cut, I really don't want my second year to be cut as well," she said. She said she'd try going back to her home country of Serbia, once borders open up.
Some students are weighing their safety over education when it comes to registration. "I'm more likely to stay enrolled in the fall semester if classes are online," said English major Rachel Feldman.
After working on her degree for 10 years, Feldman is rushing to graduate but is worried at what cost. "For my safety, I would consider taking the semester off if Hunter requires in-person attendance," she said, adding that although distance learning hasn't been ideal she would "rather be alive." 
Feldman worries about the potential second-wave of the coronavirus, which doctors are saying is "very likely."
For now, Feldman is registering for her classes anyway but is finding the process to be difficult. "Two out of the four classes I had in my cart were cancelled," she said. 
There was no official announcement but she heard of the cancellations from a Hunter-related group chat and then saw them missing from her cart on CunyFirst.
The college says nothing has changed in the number of classes that are being offered. "There is no reduction in the amount of classes in Hunter, " said de Luna, assuring students that "having trouble finding courses is not something new," and this is not COVID-related. 
He explained that there may be courses cancelled within departments, but oftentimes equivalents are offered to students. De Luna advises students struggling with their schedules to reach out to their advisors and departments for assistance, as well as use schedule building tools like CunyFirst and DegreeWorks.
Some students don't care what the state of classes are for the fall, as long as they can get their degree. 
"I'm registering because I'm almost done with my education," said Andriy Repik, a computer science major on track to graduate in the fall. "Hopefully this next semester will be my last and I can finally graduate."   
De Luna didn't take a remote fall semester off the table. "Of course, we don't know what will happen," he said, adding that Hunter is prepared for hypothetical events that could call for switching modes of learning mid-semester, on-campus to online or vice versa.
But not all who are supposed to graduate in the fall plan on spending their last semester online.
"I should be graduating next semester but I wouldn't go to Hunter if it's online-only," said Maria Varela, a film major. She intended on finishing her education with an internship, but thinks that won't be likely as most films and television programs have stopped production due to the pandemic.
"I would just feel unproductive taking my last courses at Hunter," Varela said. Since she has her liberal arts requirement left, Varela doesn't want to take random courses at Hunter, which is why she wanted an internship. "At this point, it doesn't really matter to me," she said of finishing her degree online.
"At this point, we are encouraging students to weigh that decision carefully," de Luna said, since in the current environment, there aren't a lot of jobs, internships, or travel opportunities for students to "use this time productively."