Professors and adjuncts restructured their curriculum. Essential workers reported to campus. And students grappled with distance-learning while completing assignments. While the effects of the coronavirus outbreak unfolded throughout the college community, Free CUNY drafted a list of demands.
Its petition, released on the first day of online classes, calls for emergency funding, free food, healthcare, housing and childcare for students, staff and faculty.
The organization says on-campus childcare providers and other essential workers should receive double pay and have protective equipment. The petition urges the college to give personnel on campus the option to stay home with full pay.
During a virtual town hall meeting on Friday, about 50 participants discussed these demands and shared ways to pressure CUNY and state leaders.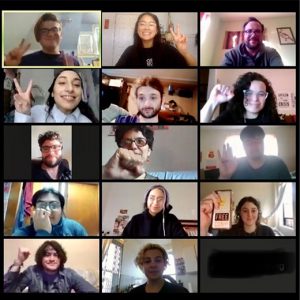 One of Free CUNY's most outspoken activists suggested withholding tuition for the upcoming summer or fall semester. The group is calling for a tuition reimbursement and dorm refunds for those who were displaced.
"If we have a critical mass of students to flex that power, we could delay the financial funds of the school and have a #TuitionStrike2020—we're not paying because you didn't refund this," said Briana Calderón Navarro from Hunter College.
On Monday, the CUNY Board of Trustees approved refunds for student residents.
The group directed their demands to Governor Andrew Cuomo, Mayor Bill De Blasio and Chancellor Félix V. Matos Rodríguez in a petition with over 300 signatures.
Free CUNY also shared a "mutual aid network," a spreadsheet for members of the CUNY community to request assistance or offer support. Current listings offer resources such as groceries and childcare along with contact information.
"Mutual aid networks are community networks that form, from the ground-up, to meet people's needs without any conditions. It's about mobilizing resources to meet the material needs of folks who need support," the organization wrote in a presentation.
Throughout the meeting, participants were encouraged to share their thoughts and experiences. Between conversations in the call and in the chat box, many personal accounts were shared.
A student at Brooklyn College said professors are not making an effort to have lecture-style classes. As an international student, Danna Johnson said she struggles to understand readings and Powerpoints.
"I don't learn by reading; I learn by listening," she said. "I don't know if anyone has this problem, but I don't think pushing everything online is the right response."
Students with health problems and IEPs that required assistance also mentioned the toll of the online transition in the chat box. Another student, Saaif Alam, later thanked her for bringing up different learning styles. He continued by sharing ways to pressure Governor Cuomo for funding, by sending letters and tweets.
The meeting ended with more suggestions on how to take action, despite not being able to gather and protest in person. Free CUNY member and Brooklyn College adjunct professor Conor Tomás Reed ended the two-hour meeting by telling participants to share the petition and the mutual aid spreadsheet by using social media, and asking professors and classmates to share as well.
The group could also organize by continuing to gather virtually— "I'm glad for a space to reconnect," Theresa Vu, a junior at Hunter College, had said at the start of the meeting.
The group invited everyone on the call to participate in upcoming Free CUNY meetings that take place on Friday afternoons. "We have a university to transform," he said, "under difficult but powerful circumstances."