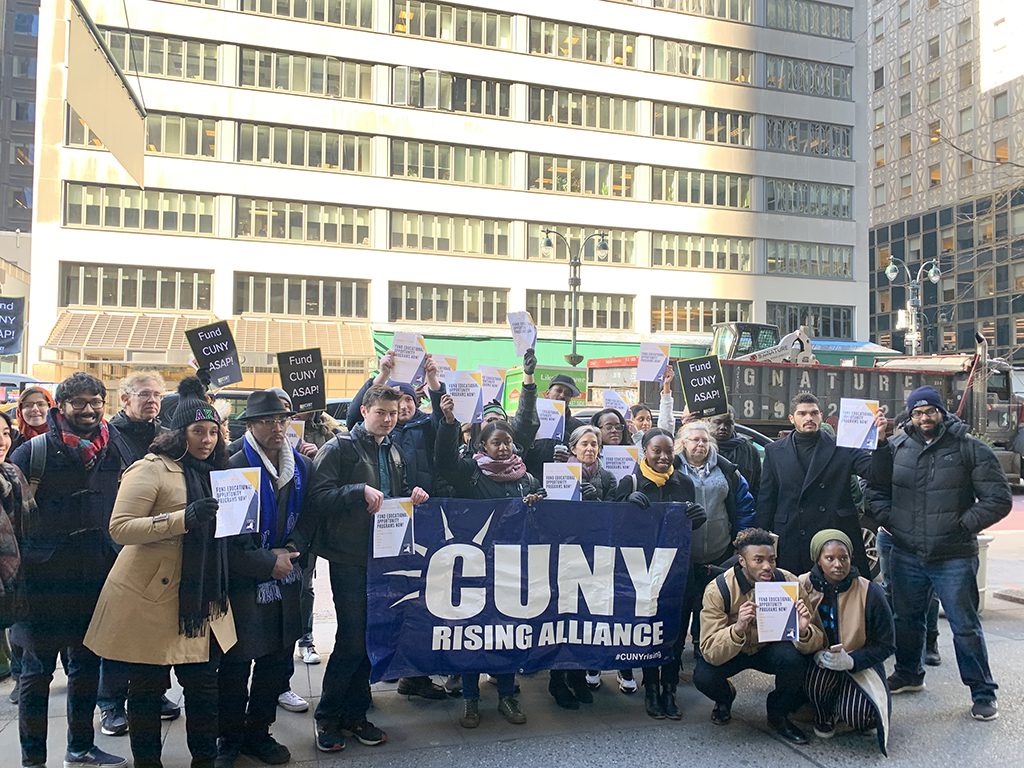 Students and faculty of CUNY rallied for expanded funding in programs for low-income students in front of Gov. Andrew Cuomo's Manhattan office yesterday. 
The Governor's executive budget will be released in mid-January, prompting CUNY Rising, an alliance made up of over 30 student, union and community organizations, to gather on the cold Thursday afternoon. Among the crowd were students from Hunter's NYPIRG, an on-campus public education organization.  
CUNY's University Student Senate and NYPIRG co-organized the rally a month before the budget's release to call for expanded funding instead of the routine million dollar budget cuts.
"Starting around 2014, the Governor has substantially cut funding for opportunity programs in his executive budget. Public outcry has pushed the legislature to reinstate funding during the budget negotiations that follow," said Megan Ahearn, the program director of NYPIRG. After the new year's enacted budget is released, the negotiations will start to determine if those cuts should be made. 
The Governor's current executive budget for the year cut educational opportunity program funding by $31 million from 2020 to 2021. This included $5.36 million from SUNY Educational Opportunity Program, $5 million from Education Opportunity Centers, $4.68 million from SEEK and $2.5 million from ASAP. These programs provide academic and financial support for students from low-income backgrounds. However, this year's funding was restored during budget negotiations and remained consistent. 
At the rally, more than 30 students and faculty from City College, College of Staten Island, City Tech, Borough of Manhattan Community College, Medgar Evers and more held signs saying "Fund CUNY ASAP" and "Fund Educational Opportunity Programs Now!" 
Over 25,000 low-income students enrolled in two-year community colleges are a part of ASAP. The program provides students with support including free tuition, textbooks, public transportation, academic advising, tutoring and enhanced career services. The program noted as effective by President Obama doubled graduation rates according to a study by the MRDC.
As the crowd chanted, "What do we want? Opportunity. When do we want it? ASAP," an anti-vaccine group stationed a few feet away in front of the Governor's office chanted, "Our kids, our choice." Employees in the building observed the two advocacy groups through the glass walls. 
Students affected by these programs spoke at the rally. Colin Smith, a student at Medgar Evers College, says he couldn't afford college as a young adult and decided to return a few years ago. "I didn't think I could do it. But as time went on, with ASAP services [covering] half my tuition, I made it on the dean's list," said Smith. 
Among the crowd was Ayesha Schmitt, a project coordinator from Hunter's NYPIRG who is in support for expanded funding for programs which help thousands, including her mother. "My mother hadn't been to school in a really long time and when she came back, she had the support of advisors and extra assistance from ASAP to complete her degree," said Schmitt. 
CUNY Rising Alliance has set up a petition urging people to tell Cuomo to invest in public education. Once the new year's budget is released NYPIRG will release their annual budget testimony to spread awareness of the news and work against any possible cuts.  
Hunter student Anna Compton says these programs are vital for CUNY students. "Students shouldn't have to choose between purchasing MTA cards or food or books," she said.