At 9:00 pm, in the Hunter Sportsplex, the final buzzer of the men's first home basketball game rang. The Hunter Hawks had just lost to the St. Joseph's Golden Eagles, 49-82.
"I had a good feeling going in, but in the second half our energy just dropped off," says Luka Jakic, forward for the Hunter Hawks. The economics major scored eight points, but believes the team needs to practice teamwork.
Ryan Lau, shooting guard for the Hawks, agrees with Jakic. The freshman says, "We have to come together, first and foremost. We have to be a team and work towards winning."
Having studied the films of the Golden Eagles' offense before the game, the Hawks still struggled to keep up with St. Joseph's.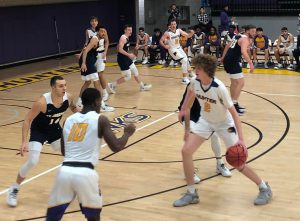 "We didn't really worry about offense, we racked up about 100 points in our last game," says Frank Basile, guard on the Golden Eagles and senior at St. Joseph's, who scored the most points on the team.
Having lost the first three away games and now the first home game, the Hawks are now 0-4. "I think we should have won, but we definitely could have played better," says Lau.
"We're a tough team. That toughness is built off of a bunch of losing years," says Basile.
Both Jakic and Lau say that the team has a lot to practice following the loss, including working together on the court. "We could have been more organized as a team," says Jakic.
"The Hawks are a good team, but we really had a game plan," says Basile.
The Hawks are trying to move on from the loss and are throwing themselves into practice before the next game, on November 26 against SUNY Maritime. The team's end goal is to win the final CUNYAC Championship.
"Trying to win the championship, that starts day by day, step by step," says Jakic.