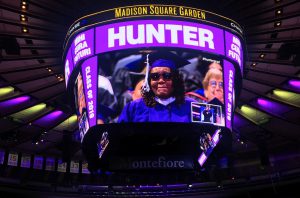 Beverly Emers grew up in the South Bronx and dropped out of school in the 9th grade. She spent the majority of her time in and out of Rikers Island Correctional Center for both using and selling drugs. It wasn't until her son Jabari was born 16 years ago that she started to turn her life around.
When her son was struggling to read, she went to his school to get him help. It was there that the staff saw potential in her and inspired her to go back to school. Emers started taking classes at Bronx Community College for her associate's before coming to Hunter to major in sociology.
On May 29, she received her bachelor's degree as well as a standing ovation from the audience at a packed Madison Square Garden during Hunter's graduation ceremony. And Emers is not done. She now plans to get a master's degree in labor studies to help educate impoverished children in the South Bronx.
Emers was the only person to receive a standing ovation at the ceremony, even with the commencement address delivered by former secretary of state and first lady Hillary Rodham Clinton, who in fact stood for Emers. Clinton admitted she felt like she personally knew the graduates after President Jennifer J. Raab highlighted just a few of the remarkable students at the ceremony.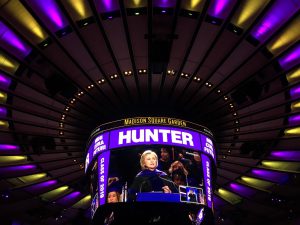 "Turn your failures into fuel and your pain into progress," Clinton told the audience. "If you need inspiration, look at your classmates."
The nearly 2,500 graduates came from 150 countries and six different continents. Families traveled to the Garden from all over the world, including Zimbabwe and Greece, to celebrate their Hunter grads.
"This is why New York is the best," said CUNY trustee Barry Schwartz at the ceremony. "We'll never stop welcoming new immigrants who are trying to make it."
Among the graduates, there were three Dreamers, many first-generation college graduates, immigrants, children of immigrants, children who grew up in foster care, students who not only worked while going to college, but worked two jobs and even three jobs.
"Your stories are the story of America in the 21st century," Clinton said. "You are activists and organizers, strivers and seekers."
President Raab also acknowledged several students who were forced into arranged marriages while pursuing their degree. Student Safia Mahjebin would spend her nights at the library, afraid to go home and endure the verbal and physical abuse from her family. A professor noticed her late hours on campus and arranged for her to be placed into a dorm.
Rather than tolerating the circumstances she was given, Mahjebin decided to advocate for change. She joined a women's rights group, Sanctuary for Families, and helped raise New York's legal marrying age from 14 to 17. She is now married to a man of her choosing and is working toward a joint law degree and PhD in Islamic studies to help boys and girls who are forced into marriage.
Both Raab and Clinton noted that Mahjebin is an example of what Hunter represents: students who care for the future.
"To be a college graduate is a wonderful thing," Clinton said. "But to be a Hunter graduate, that is something to shout from the rooftops."
And while Raab joked how students have dealt with a lot of issues while at Hunter, including the long wait for elevators, over tallying for classes and the abundance of problems with CUNYFirst, she noted that while those were certainly frustrating, they were nothing to compared to what so many Hunter students have endured in their lifetime. For example, one graduate was literally holding an infant in her arms while accepting her degree.
"I will not say today that now you head off into the real world," Clinton said. "Because you've been living and working in the real world all your lives."