Introduced as a "living example of resistance to hate," Judge Nelson A. Diaz recounted his path from public housing in Harlem to becoming a leading political activist for the Puerto Rican community in Philadelphia at a talk hosted last week by Centro, the college's center for Puerto Rican studies.
Díaz, 71, who was a former general counsel at the United States Department of Housing and Urban Development (H.U.D.) as well as a former judge on the Philadelphia Court of Common Pleas (Pennsylvania's trial courts), spoke at the Glass Café last week about his new autobiography, "Not from Here, Not from There." Currently, he is building a charter school in North Philadelphia and advocating for the inclusion of women on corporate boards in Pennsylvania.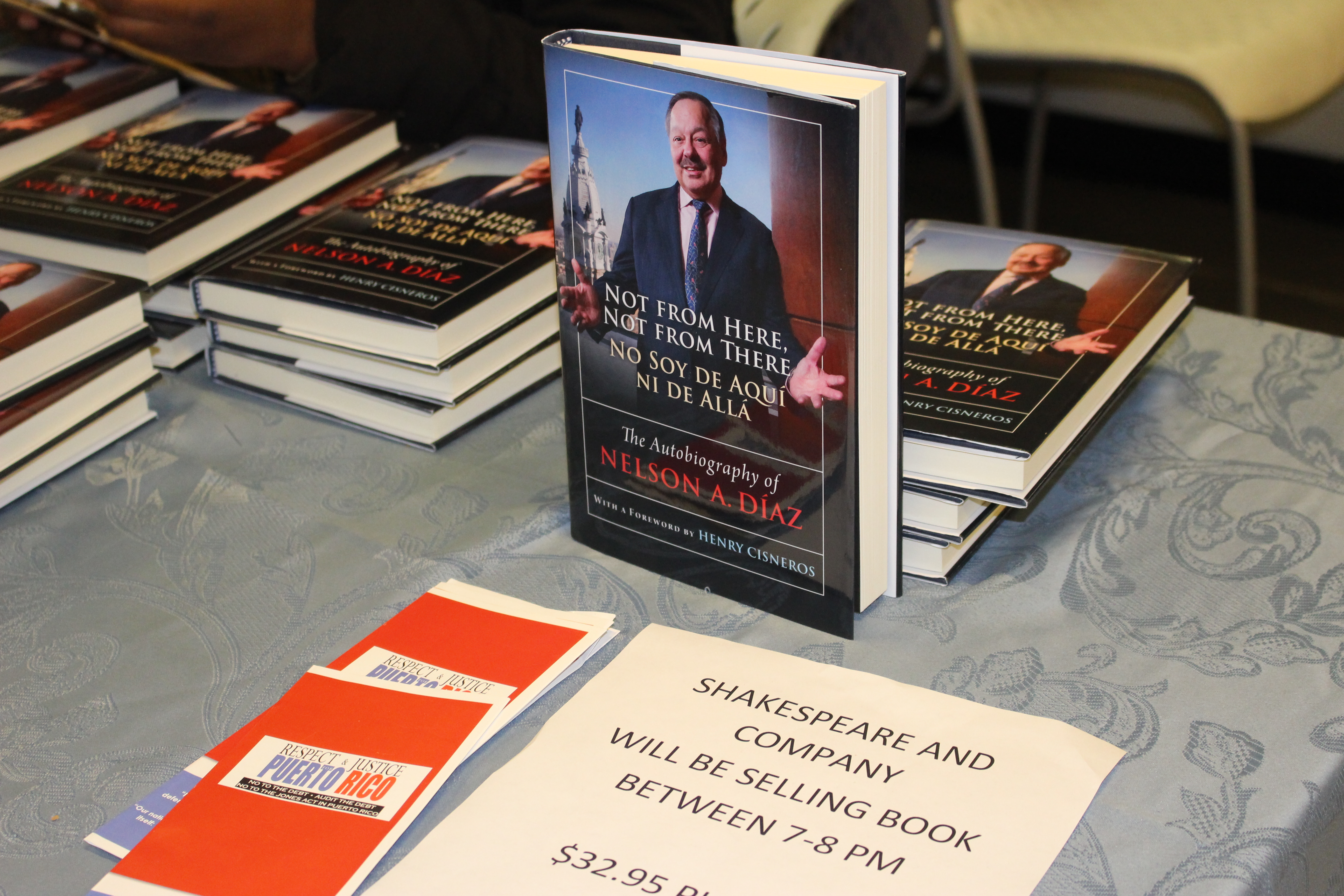 Centro is the only university-based research institute that is dedicated exclusively to the study of the Puerto Rican experience in the United States and has been housed at Hunter College since 1983. According to the Carlos Vargas-Ramos, a research associate and communications director for the Centro, they were "compelled" to present Judge Díaz's book because it "traces many of the shared elements of the larger Puerto Rican experience in the United States."
"Part of our mission at Centro is the dissemination of knowledge about the Puerto Rican experience in the United States," said Vargas-Ramos. "We feature works done by others that expand our knowledge of the Puerto Rican experience. This is the case of the presentation of Judge Díaz's book."
In the minutes leading up to the event, the Glass Café's green and grey chairs quickly filled up with colleagues of Judge Díaz who passed time by sharing positive and uplifting stories about their work and/or other affiliations with Judge Díaz in the past. A table was set up to sell copies of Díaz's book throughout the event.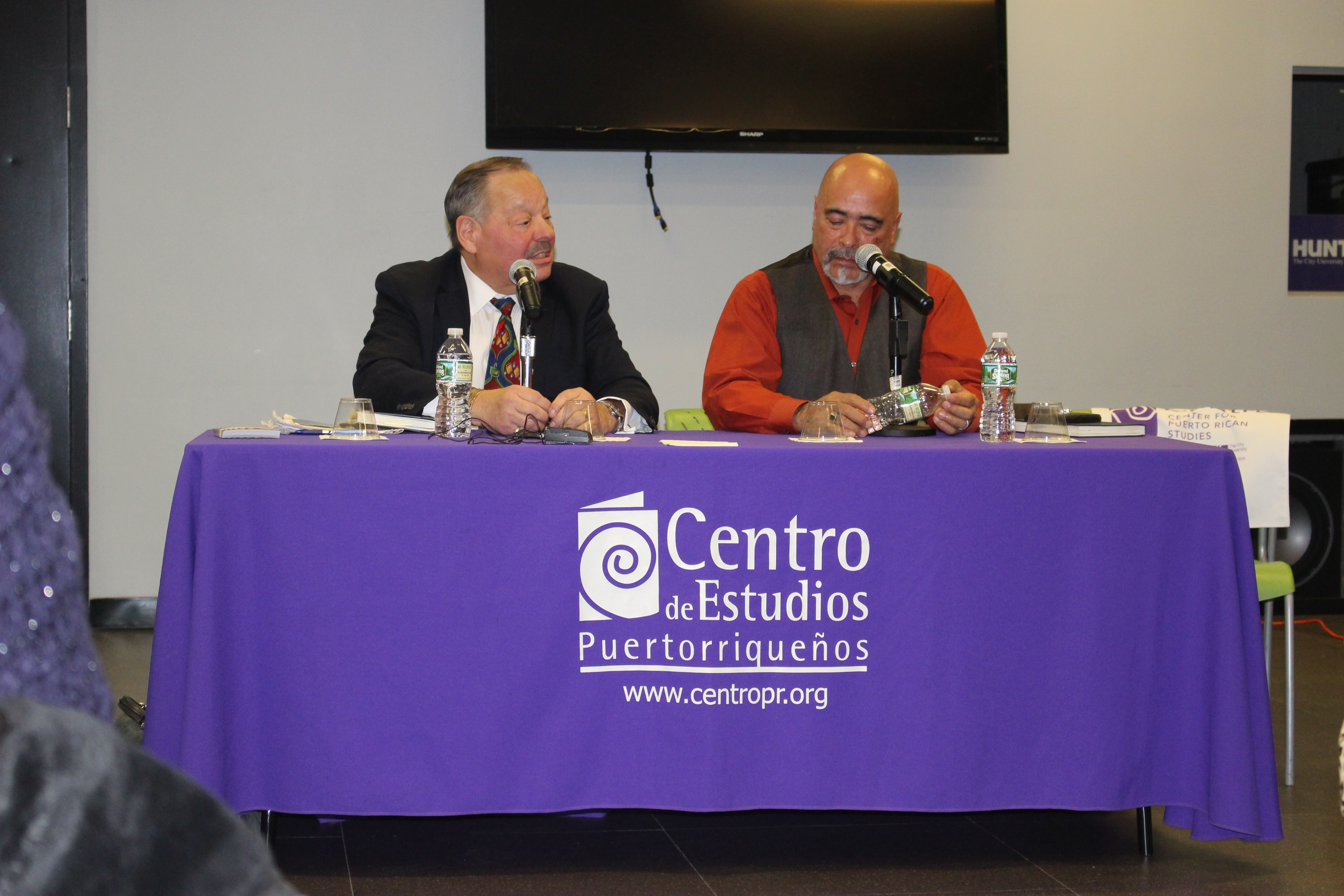 Díaz sat at the front of the room along with Juan Cartagena, president and general counsel to LatinoJustice PRLDEF (Puerto Rican Legal Defense and Education Fund), who engaged the audience as the talk's moderator. The two spoke candidly about the tribulations Díaz has faced throughout his career and personal life that were the result of institutionalized racism against Latinxs in the United States.
Díaz described his experience growing up in public housing in the Bronx and Harlem and detailed the lack of opportunity that kids of his income status were provided to succeed. In an interview with ABC6 Philadelphia that was shown to the audience before the talk began, Díaz explained that gang activity ruled much of the neighborhood he lived in because there weren't many options for children to be involved in other organizations. "If you didn't belong to something, you really couldn't get between one neighborhood to the other," he said. Díaz also recalled some experiences with more overt acts of racism, including being called racial slurs by Ku Klux Klan members while they organized against his efforts to integrate public housing in Texas (alongside Henry Cisneros, former United States Secretary of H.U.D. under President Bill Clinton).
Regardless of the challenging circumstances Díaz described, he remained optimistic and confident in his own skin. "Sometimes you have to walk a few feet backwards to move a few feet forwards," he encouraged the audience. Soon after the talk started, audience members began to trickle over towards the table to buy copies of his book. By the end of the discussion, the line of people waiting to buy books extended to the back of the room.
Audience members grew visibly impassioned by Díaz's words. Many responded with mumbles and grunts to the heavier details of his life, such as the time he had a cross burned on his family's property in New Jersey. He lightened the discussion at moments, particularly when he could not read an excerpt from his book without using the flashlight on Cartagena's phone.
Before concluding, he took questions from audience members. When an activist for Puerto Rican issues asked him about the United States' efforts to provide relief to Puerto Rico after Hurricane Maria, Díaz exclaimed, "If the lights had gone out in Pennsylvania for 11 months, there'd be riots!" The audience erupted into applause and cheers.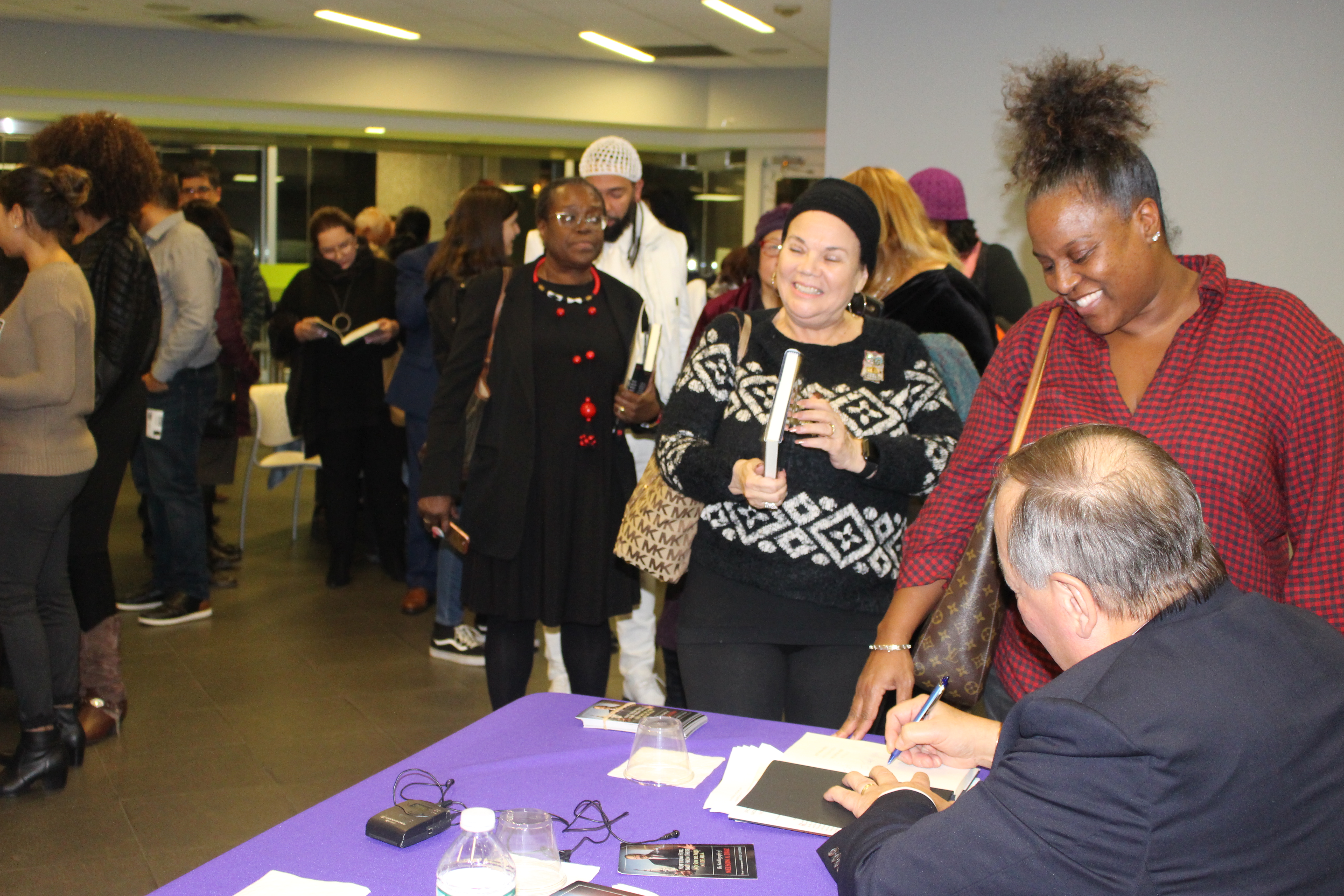 Díaz encouraged everyone in the room to write and share their own stories so that Latinx children and others can learn about the struggle of Latinx people in America and create change. He concluded by chatting one-on-one with attendees and signing copies of his book, for sale in stores and online now.
For more information about Centro events, you can visit their website.