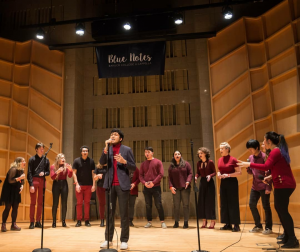 Hawkapella, Hunter's co-ed acapella group, performed at Baruch College last week along with
the Baruch BlueNotes and New York University's Vocollision in Baruch's annual Acapella
Showcase. Acapella groups consist of singers who only use their voices and no additional
instruments.
Hawkapella came on stage first, all dressed in matching cranberry and black outfits. The group
formed a semi-circle around various soloists, depending on the song. Their lineup included
"Forever" by Chris Brown, a mashup of "Let it Go" by James Bay and "Let Her Go" by
Passenger, and "No Roots" by Alice Merton. The songs varied in tempo as different soloists
came center stage to belt out the main melody of the song, while the others backed them up.
During the group's performance of "No Roots," soloist Julia Hayden got the crowd clapping
along with her. Hayden referred to the experience as "awesome!"
"The Blue Notes were so great and accommodating and were so nice, not to mention super
talented," Hayden said. "They have a beautiful space for their concerts — it had high ceilings for
great acoustics."
The group practices twice a week on Mondays and Wednesdays. Throughout the entirety of the
group's history, they have released their own original music to platforms such as Spotify. They
also have placed second in Hunter's third annual "Hunter's got Talent."
The group consists of 20 Hunter students: Maddi Tuccillo, Amanda Wessels, Anjor Khadilkar,
Ariella Caminero, Bobby Rahman, Carolyn Weller, Cheryl Chen, Dylan Pappas, Elaine Chen,
Eleni Mattas, Elias Kenouryiakis, Jason Wang, Julia Hayden, Kai M'Kenna, Kaleab Wiggins,
Lesley Monge, Liezl Gamboa, Michaela Manno, Miyuu Yokota, and Valentina Gomez.
Although the group does not have a coach, rehearsals are often run by the music director, or
assistant music director, Michaela Manno and Maddi Tuccillo , respectively.
At the showcase, the NYU group performed a set of pop songs that they arranged to fit the doo-
op sound of the acapella group. The BlueNotes, who performed in between Hunter and NYU, did
renditions of Billy Joel's "The Longest Time," and "Almost is Never Enough" by Ariana
Grande, as well as featured solos from graduating seniors.
The auditorium was small, but not a red cushioned seat was empty.
"It was fun to test our set in a new environment." Hayden said.
Hawkapella hosts auditions for new members every semester, and always welcome new talent.
The club will post flyers early next spring.