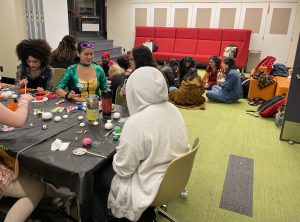 The halls of Hunter College are rainbow colored again.
After a three-year absence, the Queer Student Union is coming back to Hunter College in the fall of 2023. Being revitalized by Litzy Antonio as well as other members of the executive board, the union is aiming to be a safe space where queer students can safely thrive and enjoy the company of one another.
In the fall of 2023, the QSU made a comeback after not being active since 2020. The previous iteration of the club dissolved in 2020, with their last known activity being a Facebook post back in June 2020.
Some previous members moved up to being part of the Undergraduate Student Government board and others graduated, leaving an empty hole in the Hunter queer community.
"Ariadna who used to be the president of QSU went for the role of USG president and she couldn't continue heading the club." Antonio said, reminiscing about what happened when the club was disbanded. "From that, no one took up the opportunity to open one up again. Towards my sophomore year me and my friends wanted to make it happen and since I'm a member of USG I have an inside of how clubs are run."
Antonio, the new President of the club, wanted to bring back QSU in an attempt to create a space for all students, considering this a personal task for her as a queer person on campus.
"I wanted to create a safe space for all queer people and their allies." She highlighted. "I wanted to leave a mark at Hunter in some capacity."
Now that the club has been started up again, the organizers are looking forward to the multitude of events being set up so queer people can socialize and have fun in an otherwise strictly academic setting.
"We want queer students to have a sense of identity and community on campus," said Vice President Dylan Bhigroog about the events that the union is organizing. "There are other queer people on campus. I know that Hunter is a commuter school so we want the Queer Student Union to be that safe space to find community and family."
On October 25 the club organized a costume event appropriately called "HalloQueen" which was posted about on the club's instagram. Students were able to dress up and mingle and celebrate Halloween in a queer positive environment.
"I saw the event on social media and I was extremely interested in it," said Abby Cross, a 19-year-old student who follows the club on instagram. "I love Halloween. I like being with a community of like minded people."
In HalloQueen and other upcoming events, the club is aiding a multitude of queer students to find more queer students to talk to and socialize with. Members like Victoria Inahuazo are excited to see developments within the club.
"I think the club will foster a welcoming and diverse group of people." She said, "We want to set up a table near the cafeteria where we have other students at Hunter congregate and ask questions."
Another important aspect that the president wants to include in club activities as well, besides the well being of students on campus, is the ability to give back to the queer community.
Nearly 28 percent of the LGBTQ youth has experienced some sort of homelessness or housing instability according to the Trevor Project, a non profit organization dedicated to the safety of queer youth in America.
"We are planning a trip outside of Hunter where we help a non-profit. It's something that if we have the opportunity to do it I don't see why we shouldn't." Antonio stated. "It might take a little bit of time but we definitely want to do it. We want to make sure others have what we have."
In extremely unprecedented times where LGBTQ rights are endangered every day, students like Antonio and Bhigroog are helping out by giving queer people a voice and making sure the community is heard and respected.
With the new and active Queer Student Union, the halls of Hunter College are not losing the rainbow anytime soon.