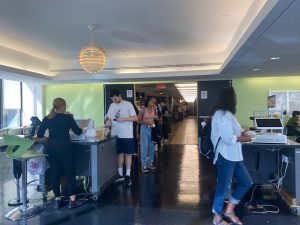 The cafeteria at Hunter College doesn't match the multiculturalism the school holds. Students struggle to fulfill their meal needs at the college café because it doesn't provide the required variety to cater to the student body's diverse cultural and dietary needs. It is pricey, lacks options, and doesn't accommodate students' needs. 
Hunter College is as diverse as the city of New York, with 73 percent of the students being people of color, according to collegesimply.com. This website uses a ranking system based on U.S. Department of Education data.
Hunter was designated a Hispanic-Serving Institution in 2019 and has been an Asian American and Native American Pacific Islander-Serving Institution since 2016. Such a diverse student body comes with numerous dietary restrictions, food needs, health matters, allergies, and religious beliefs that still need to be met. 
 "As a vegan with myriad allergies, the cafeteria gets on my nerves. Occasionally, there is vegetarian pasta, and most days, it is pointless even to step in," said Yashika Parwath, a senior who struggles to find a nutritious meal that doesn't break the bank but also accommodates her numerous food allergies.
The cafeteria at Hunter doesn't offer an array of choices; on occasions, there are none for vegans or vegetarians. Halal and Kosher foods are not part of the menu. A few food trucks near campus are halal-certified to grab a meal or a snack. Even non-halal students resort to these trucks for their meals. 
"We need to add a lot more options in that regard. We just started back last semester, so we are looking into more options," said Stephanie Bustamante, the cafeteria's manager. "We wanted to get a sushi station; we are just trying to find the right vendors."
No lactose or gluten substitutes exist for students who present these needs or any other restrictions. They have implemented garden salads with animal protein and egg salad as well. Bustamante said they "fly off the shelves."
The menu has few variations, and the homemade meals have a heavy Hispanic influence; as Bustamante points out, the kitchen staff came from a small Dominican restaurant and brought their culinary knowledge to The Hungry Hawk Café.
"The food here at Hunter doesn't vary much on the menu; it feels like I'm still in high school where they sell the same food to gain profit," said sophomore Brianna Rivas.
According to a 2017 New York Times report, a Hunter student's average median household income is $57,500. Yet, students get charged $2.99 plus tax for a plain slice and $8.99 plus tax for a bowl of pasta with protein. Three out of five students interviewed for this piece say the cafeteria prices are high for a public college, and the food's quality and options don't match the price point.  
Students are unaware that the college cafeteria has been outsourced to a food catering company called Eatily Foods through a partnership that began when the cafeteria reopened after the pandemic. "Given it is internal to the college, the cafe is supposed to be pocket-friendly, saving students time and money," said Parwath. 
"Etalily Foods' idea is to provide students with a home-cooked meal and make the cafeteria feel like a home away from home," said Bustamante in an interview conducted by Hunter News Now in 2022. Not all students find their meals comforting. Hunter doesn't have a cafeteria that matches the inclusivity its statistics show, but students expect Hunter to be inclusive in all areas.
"The upper management at Hunter does not seem to make the third-floor dining experience any more of a priority than they have to," said senior Veronica Bar.