Have you ever found yourself at Hunter looking for a quiet place to study, or a spot to eat lunch and talk with friends in between classes? Hunter is notorious for being packed and it's common to see students standing around waiting for an available seat — especially during welcome and final week. However, the college recently renovated four new areas on campus for students to spend a little free time. 
Gone are the days when you were forced to sit in the hallways due to no available seats at Hunter or having to eat lunch in the sky bridge because the cafeteria is too busy — well, hopefully, if these new spots don't get too full. Let's take a look at some of the new renovations at Hunter and how current students feel about more options to frequent.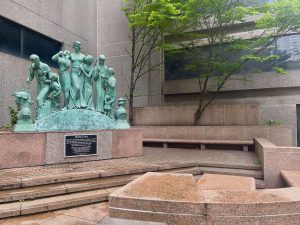 Spring is finally here, and so is a park dedicated strictly to Hunter students. Although the well-acclaimed Central Park is relatively close to the school, if you don't feel like taking the trip this park is a perfect cozy alternative. "It's nice to have an outdoor space with just Hunter students and I don't have to walk all the way to Central Park," Bryan S. told the Athenian. 
For students who prefer commuting to school via a bike, but are concerned about finding a safe place to store it, the park offers a bike rack. It also features several benches, which are perfect for students looking to read a quick book or talk with friends. There's even some art for you to enjoy as it has a "Mother Italy" bronze sculpture created by Giuseppe Massari.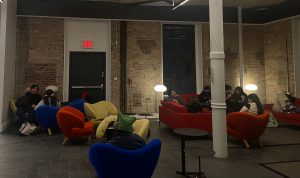 Named after Hunter alumna Harriet Gruber, this lounge can be accessed from the Baker Theater Building or inside the 3rd floor of the East Building across from the Cooperman Library. Gruber pledged $35,000 to the Hunter College Foundation Inc. to pay for expenses relating to the programs, operations, and renovations of the Hunter College library.
This lounge officially opened on April 27, 2023, and students are already beginning to fill up the space. Nursing student Marie Francois says, "The lounge is so different from the rest of Hunter. It's way more modern and doesn't look as outdated as other places here." The spot is decked with vibrant contemporary chairs and couches, lending a rustic coffee shop vibe to Hunter. Francois says, "It doesn't even feel like Hunter. It reminds me of a cozy cafe in the city."
The fifth floor of the Toby and Leon Cooperman Library was renovated in May 2021 and it finally opened in the fall semester of 2022. It features a variety of tables with charging outlets and working booths suitable for one or two people for more intimate studying. There are also reservable group study rooms available for students to book anytime. Biology student Samantha A. says "It's difficult to find a seat here sometimes but other than that, I like how there are private seats in between the bookshelves so it feels like you're in a cave."
Louisa Sanchez said, "I've been coming here ever since it opened. It's a great place to study, especially with friends because you can talk without worrying about bothering anybody." Unlike the lower floors of the library, this floor is designed for group study. Students can talk freely and there are a plethora of tables and booths for students to study with friends.
So, picture this: you've just finished a last-minute assignment and you're rushing to class. But, your professor insists on printed copies and you have to head to the library for the printing station. However, there's either a long line or the printers stopped working. What do you do then? Hunter now has a Quick Print Room in the Thomas Hunter North Building that features a printer and several available Macs for use. So if you don't have a computer and the computers in the library are all occupied, head down to this computer room that'll be open throughout the rest of the semester — just in time for finals week.