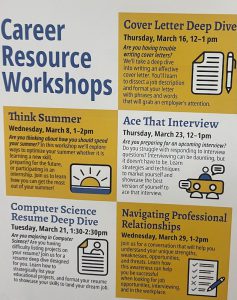 Soon-to-be Hunter graduates are worried. Rising New York City rental prices, student loan debt, a looming recession, and to top it off — layoffs and an uncertain job market.
The class of 2023 has endured a lot during the past three years. A pandemic, missed high school senior activities, and a chance that they may face difficulty securing a job after graduation.
According to Zippia, a job recruitment platform, in 2022 there were 15 million layoffs in the U.S., with the most layoffs happening within the professional and business services industry.
Handshake, another job recruitment platform for college students, says that more college students are worried about recent layoffs and are applying for more jobs prior to graduation.
In most cases, entry-level workers and new hires are the first to get laid off. Therefore, recent college graduates have higher chances of being the first to become unemployed, increasing pressure and anxiety.
Erica Amaning told the Athenian, "I'm really worried about graduating because I have no idea what's going to happen."
Amaning is skeptical about the current job market and is unsure about her potential future. She's worried that she will be unable to find a job and support herself after graduating, but she's trying to remain hopeful amidst economic uncertainty.
"I had a couple of internships so hopefully that helps me stand out more in job applications, but at the same time there's a lot of other students with the same background so I don't know if that'll be enough," said Amaning.
Amaning plans to start applying to jobs and perfecting her resume this upcoming month to stay ahead of the competition and have a higher chance of receiving an offer. Other students share similar concerns.
"The recent layoffs are extremely difficult to process and they just produce anxiety," said Samantha Sa, a psychology student.
Sa's not actively looking for employment right now as she plans on attending graduate school after receiving her bachelor's, but she knows other students who are fearful about job prospects.
Her friends are some of those students. However, her friends are actively going to the Career Development Services at Hunter College to update their resumes and cover letters, and for interviewing tips. They also take a variety of internships and maintain good grades to bolster their skills and gain more knowledge.
"I feel like having good internships is one way to secure a job opportunity upon graduating, but before that doing well in school also matters," says Sa.
The Office of Career Development Services at Hunter College offers students advice and tips for entering the job market. They host career workshops as well as provide resources for interview preparation, internship information, and resume and cover letter writing. They also host job fairs where students meet face-to-face with potential employers, increasing their chances of being hired.
At a previous career workshop, the Office of Career Development Services offered advice and tips for success in future job interviews. Students, including Amaning, were able to walk away with relevant steps for how to stand out and connect with interviewers to advance in the job search.
Amaning said, "I'm quite shy so I really wanted to go to this event to see how I could try to be more extroverted and friendly when I'm interviewing with some of these companies."
She refuses to wait until she receives a request to interview to start practicing because she wants to ensure she's at her best when the time comes.
At the workshop, she learned how to present herself best when talking with potential employers and how to highlight the skills she's learned at Hunter.
After perfecting her resume and doing countless amounts of research on how to pass interview rounds, Amaning has an upcoming interview with a major company that's in her desired industry.
She graduates this upcoming May so she's hopeful that she'll secure this job, so she can afford to rent her own apartment and move out her childhood home.
"I think everything I learned at Hunter and in those workshops will help me make the next move," Amaning said, "and if I don't get an offer at this company then hopefully somewhere else."