From bubble tea to K-pop music, the influences of Asian cultures have a strong presence at Hunter College. Asian students make up over 25% of the diverse student body. Many students, both Asian and non-Asian, have found community when they come together to celebrate their favorite Asian topics such as poetry, food, music, and art. These special interest clubs and representation groups were formed so that students could celebrate their shared appreciation for various Asian cultures.
Hunter has a variety of Asian-themed or inspired appreciation clubs such as the Poetry of the East or PotE club that studies and practices South Asian and Persian poetic styles. Another focuses on Asian music such as the K-Pop club and Gen-K which are clubs that celebrate South Korean popular music.
One of Hunter's biggest Asian-themed appreciation clubs is the Hunter College Anime Club or HCAC. HCAC is a community built on the student fanbase of anime or manga and the appreciation for non-traditional Japanese culture. Senior and studio art major Daniela "Beth" Martinez is president of HCAC. Martinez has been an avid anime fan since the age of 12. 
"I believe that Anime and Manga brings a sense of 'finally belonging' with like-minded people, and it also has helped us to escape from our real-life obligations such as academics, school work, or work from our jobs," said Martinez. 
HCAC members refer to themselves as "Japanese enthusiasts" where they celebrate their favorite aspects about Japanese culture including art, food, music, and fashion. 
HCAC president Martinez says, "Many aspects that draw me into the Japanese culture such as the history of the language; the collectivist ideologies learned from Confucianism; the subcultures of the Japanese culture like the Kawaii culture; the diversity of gastronomy and the different tastes and flavors that can be found in the Japanese food, and the Japanese fashion."
HCAC's activities include watching anime films and drawing characters, although one does not have to be an artist to participate. 
Junior and psychology major Rayhan Arefin is vice-president of HCAC highlights that students who are not necessarily artists can express their appreciation for anime through cosplaying. Cosplaying is a form of performance art that originated in Japan. Cosplayers would dress in costumes and make-up, representing characters from anime. 
"Dressing up as and actually becoming some of my favorite characters creates this holistic feeling deep within my heart…I feel fulfilled and unashamed when I'm cosplaying…It may be uncomfortable and embarrassing at first, but once you realize how much fun you're having, you won't care about what others think," says Arefin. 
While clubs like HCAC are Asian-themed appreciation groups, there are also a number of Asian representation groups for students of the heritage of the countries celebrated. Some of these organizations include the Korean Student Association, the Japanese Club, the Chinese Student and Scholars Association of Hunter, and the Pakistani Student Organization. Organizations that celebrate the demographic of students who go to Hunter.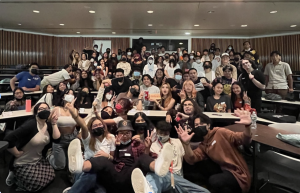 One of the most active Asian representation groups is the Pilipinos of Hunter or POH. POH is a social-cultural community that celebrates and educates students about Filipino culture. Established in 2005, POH was originally founded to create a space for Hunter's Filipino students. Today POH is open to all students regardless of heritage. 
"We celebrate Filipino culture in a large part because we are Filipino, but at the same time we are actively involved in the greater project of navigating what it means to be Filipino-American or any other hyphenated identity…college is the perfect time to figure out who you are, and its important to analyze how the culture of your friends and forefathers leaves a mark on your identity," said junior and psychology major Kyla Gamaro who serves as the secretary for POH. 
Senior and psychology major, Kimberly Subida serves as co-president of POH.
"For Filipinx individuals who wish to join, POH is an outlet for being surrounded by peers who wish to grow closer to their culture, while meeting new people as well," said Subida. 
POH holds general meetings every other Wednesday where they discuss various aspects of Filipino culture. Their meetings are live streamed on Instagram. Every meeting includes a "word of the day" which is in the form of the Filipino dialect tagalog. Their activities include karaoke contests, dance competitions, cooking, and live shows. 
POH prides themselves as a community, open to any and all students who are either interested in Filipino culture or just need friends in college. 
"POH can offer a safe and fun space for other students…whether you need someone to sit with in the library, or need help with your major, POH is there to offer any support and kindness always…our general body has grown so close to each other, and it is never a dull moment with POH," said Subida. 
Asian students are the third largest represented demographic at Hunter College. Many clubs and organizations are open to students with a shared appreciation for these many cultures and nations of the East. These clubs not only celebrate cultures but unite students together through camaraderie.