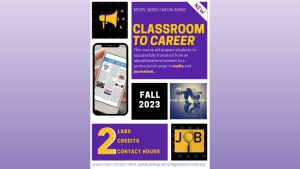 As students begin to prepare for the fall semester, a new course titled "Classroom to Career" is coming to Hunter. The goal is that students who complete this 1.5 credit course will be well-equipped to move from an academic setting to a job in media.
"Classroom to Career" will prepare students from the ground up by offering resume and cover letter workshops, interview preparation, job search strategies, and much more. A leading mission of the journalism department at Hunter is to provide students with what they need to succeed and develop them into the next generation of leaders by preparing them for life beyond college. This class will give students access to professional development programs that will make them ready for a fast-changing economy and job environment.
Professor Jeanie Ahn, who has also taught three semesters of News Literacy at Hunter, is using her expertise as a career and money coach to teach this course. Before joining Hunter, Professor Ahn had worked as a personal finance reporter and senior producer at Yahoo! Finance. She has covered over a thousand stories, giving viewers the tools they need to manage their careers and finances.
"It's a full-time job looking for a job so we're going to think strategically based on your personality," said Ahn. "Overall this course will be a fun and interactive way to prepare you for the real world."
This class aims to facilitate a constructive but non-judgemental environment for students to be hired for a job successfully. It will fulfill journalism major requirements and is considered an elective production course.
"Making the best out of whatever situation you're in and using that as a launchpad for your next endeavor is very important," said Ahn. "It's very important to be positive and not discouraged as you're starting your working experience."
Regarding the syllabus, you will be graded on the following:
20% Resume
20% Portfolio
20% Progression in Interviewing Skills
10% How you Work with Peers
15% Class Participation
15% Personal Reflection Writing
Isabel Laus, a graduating senior studying psychology and media studies in the Macaulay Honors program at Hunter, was pleased to hear about the creation of this new class and believes it is a great step toward preparing students for life after undergrad.
"It's super cool to see courses like this emerge at Hunter that directly respond to students' needs, and I definitely would've taken this class, but I'm graduating in a few weeks," said Laus. "I think this course will be life-changing for a lot of people because it will give them more confidence about what they want to do after graduating from Hunter."
When asked how the idea for this course came to be, Ahn said it was at a faculty lunch where one of the main topics of discussion was students being underprepared for opportunities after graduating and entering the workplace because they aren't equipped with the tools they need to succeed.
Professor Kelly Anderson, who is also department chair of the film and media department at Hunter, had the idea to create a career planning course, and Ahn eagerly volunteered to utilize her prior experience and teach it. She also credits Professor Sissel McCarthy for assisting Ahn in navigating her proposal in a swift manner.
If you're interested in taking this course, make sure to type either "MEDPL 30N01" or "MEDIA 30N01" when registering for classes through schedule builder on CUNYfirst. This course is only available for Journalism juniors and seniors only and will take place on Fridays from 10:00 AM – 11:30 AM in classroom HN470D.
Also, please email David Pavlosky at pav10023@gmail.com before you register for the course with your Hunter EMPLID number, and you will be given permission to enroll in the class.
Lastly, be sure to check out Professor Ahn's website, Millionaire Money Habits, where you will find various financial literacy resources and email her at sk7073@hunter.cuny.edu if you have any questions!