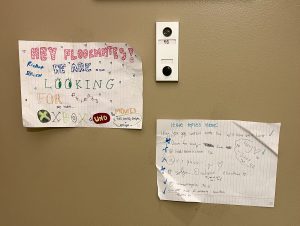 The first couple of months at Hunter College for Lucia McGehee were lonelier than ever. As a recent transfer student hailing from Texas, she didn't have strong social ties in New York City. Much to her dismay, the atmosphere at Hunter College didn't provide ample opportunity for building long-lasting friendships compared to a typical 4-year college. And, it's not just transfer students. Even students native to New York City face the same struggles with finding companionship.
Although school can be overwhelming and stressful, college students should take advantage of the United Nation's International Day of Happiness, and spread a little joy.
According to Lumen Learning, having friends in college helps to develop better study habits and social skills, and it reduces stress. In addition, friends can serve as great networking opportunities. With commuter schools, some of these beneficial opportunities are lessened because of limited interactions with other students.
Hunter is a primary victim of this. Most students at Hunter focus on attending classes, then going straight home. For students seeking to form friends, it's crucial to go the extra mile and make yourself known.
"As a transfer student, I felt very isolated. In my first year at Hunter, I was making a very hard, uncomfortable effort to try to meet anybody and make friends," said McGehee.
This is to be expected, as Hunter is primarily a commuter school, with very few students residing in Hunter's Brookdale and 79th Street Dorms. Although the dorms provide opportunities for students to form relationships, either with their roommates or neighbors, McGehee felt like it still wasn't enough.
The Brookdale dorms only have single rooms, so students established connections with others from events hosted by the dorm's Resident Assistants via Zoom and in-person or through time spent in common spaces. Unfortunately, students rarely attended planned events. At times, McGehee remembers it only being her and the RA at an event.
"During a Euphoria watch party hosted on Zoom, it was just me and the RA staring at each other with no one else there," McGehee told The Athenian.
However, ever since she moved to the 79th Street Dorms, McGehee is able to find companionship with her roommates, but the overall dormitory still lacks openness. There is a patio where students can lounge and socialize but on most days it's empty.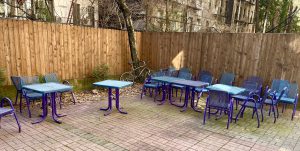 For students in the same predicament that are struggling to find friends, Hunter College hosts frequent student activities, so all is not lost. Also, this is a great way to learn about any clubs on campus that match your interests — you may even find someone to befriend!
Other Hunter students who aren't residing on campus face the same issue. Commuter student, Erica Sanchez said, "Coming to Hunter as a commuter student, I had no friends my first two years. But, after joining clubs, I now gained a couple of close friends at Hunter."
On campus, different clubs host social gatherings where you can play games, eat pizza, and socialize with fellow Hunter students — and you don't have to be a member to attend.
Miesha Smith, the director of Student Life at the Office of Student Activities, reinforces how important it is for students to rely on each other for academic and personal support. "I always say, the people that are in your WhatsApp or Discord study group are the people that you will be connected with on LinkedIn in 10 years who will be helping you find your next job!"
Although it may seem difficult and sometimes impossible to form connections at Hunter, students who put in the effort can find their group.
"After finding my group of friends at Hunter, I feel a lot happier. Having people to hang out with between classes takes some of the stress away from classes and assignments," said Sanchez.
To have a better chance of meeting other Hunter students, McGehee recommends talking to your neighbors in your dorm, not just your roommates, and to attend on-campus events even if there's a chance you might be the only one there. "Although I didn't do this myself, I do think it would've helped me gain friends, or at least be acquainted with other people."
For Hunter students looking to build community, consider following the Office of Student Activities Instagram, which is @hcstuduent.activities to learn about the latest events happening at Hunter. Also, read the Hunter Gatherer newsletter that's emailed to students every two weeks that explains new student events and important information for Hunter students.