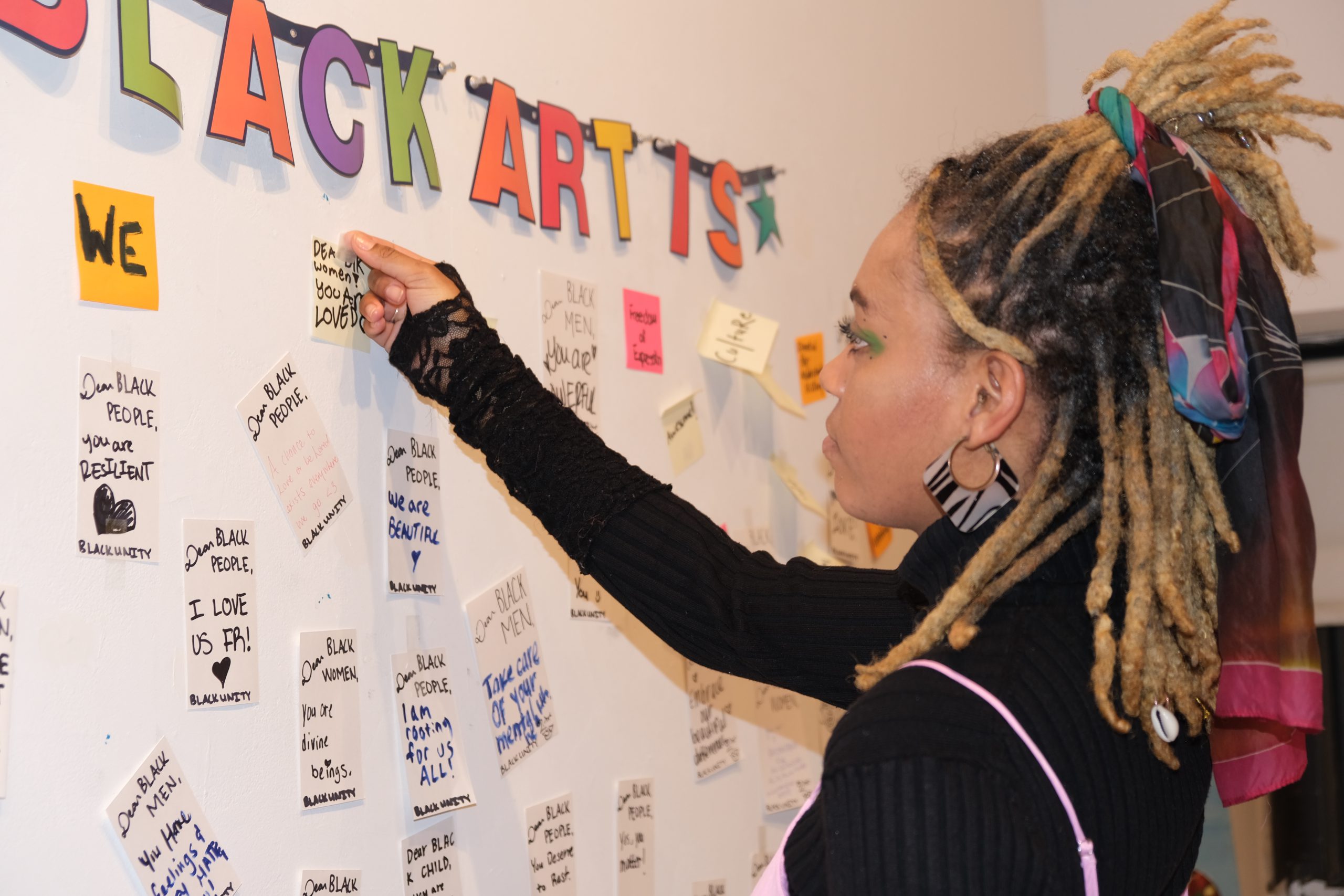 Hunter College's "Black Art Is:" event, hosted on February 24th, aimed to shine a light on the many talented Black and brown artists who are underrepresented in the art world. 
Zara Cimone created the event, a studio art major who transferred to Hunter college a semester ago, along with the Black Student Union (BSU) and the Department of Art & Art History to celebrate Black History Month. It presented sculptures, photography, poetry, musicians, and hanging media created by CUNY students.
"The main reason why I wanted to do this event was that there's not anything positive for Black people on campus here," said Cimone. 
Cimone was no stranger to art gallery events and has hosted nine others around New York City.  However, she was frustrated with the lack of celebration of Black History Month and decided to host her first art show at Hunter College.  
Initially, she began to post posters empowering Black men which she called "Dear Black Men." However, the posters were taken down by an anonymous person. Cimone's annoyance grew when she started to see posters around campus by the Internationalist club of Black people who were killed.
"Seeing Black murdered faces plastered around campus during Black History Month is not something that is empowering for Black people at all," said Cimone. 
She decided to take action with the help of Howard Singerman, the chair of the Department of Art & Art History. At first, she wanted to hang art on campus but was told the installations would need at least a year of planning. Instead, she was given a gallery space on the 11th floor of Hunter College's North building to showcase the Black and brown artists at CUNY. 
Within two weeks, she created a google form and posters to hang around campus to encourage artists to show their work at the event. The news traveled quickly by word of mouth and when the time came the gallery room was filled with students and staff.
"It's just so important to celebrate black art, black history, and black expression," said Trinity Young.
Young is a psychology major at Hunter College and is one of the many talented artists who attended the event. As a poet, she mainly writes about Black culture and her struggles with mental health. 
She speaks on how Black individuals aren't encouraged as much as white people to enter the art world. Young goes on to say she feels events like "Black Art Is:" are important as they help support Black and Brown people to join the creative field.   
"I make it a point to draw and paint black people because they deserve to be shown in every single form. Black people can be soft, they can be tough, they can be everything," said Sofia Sanchez.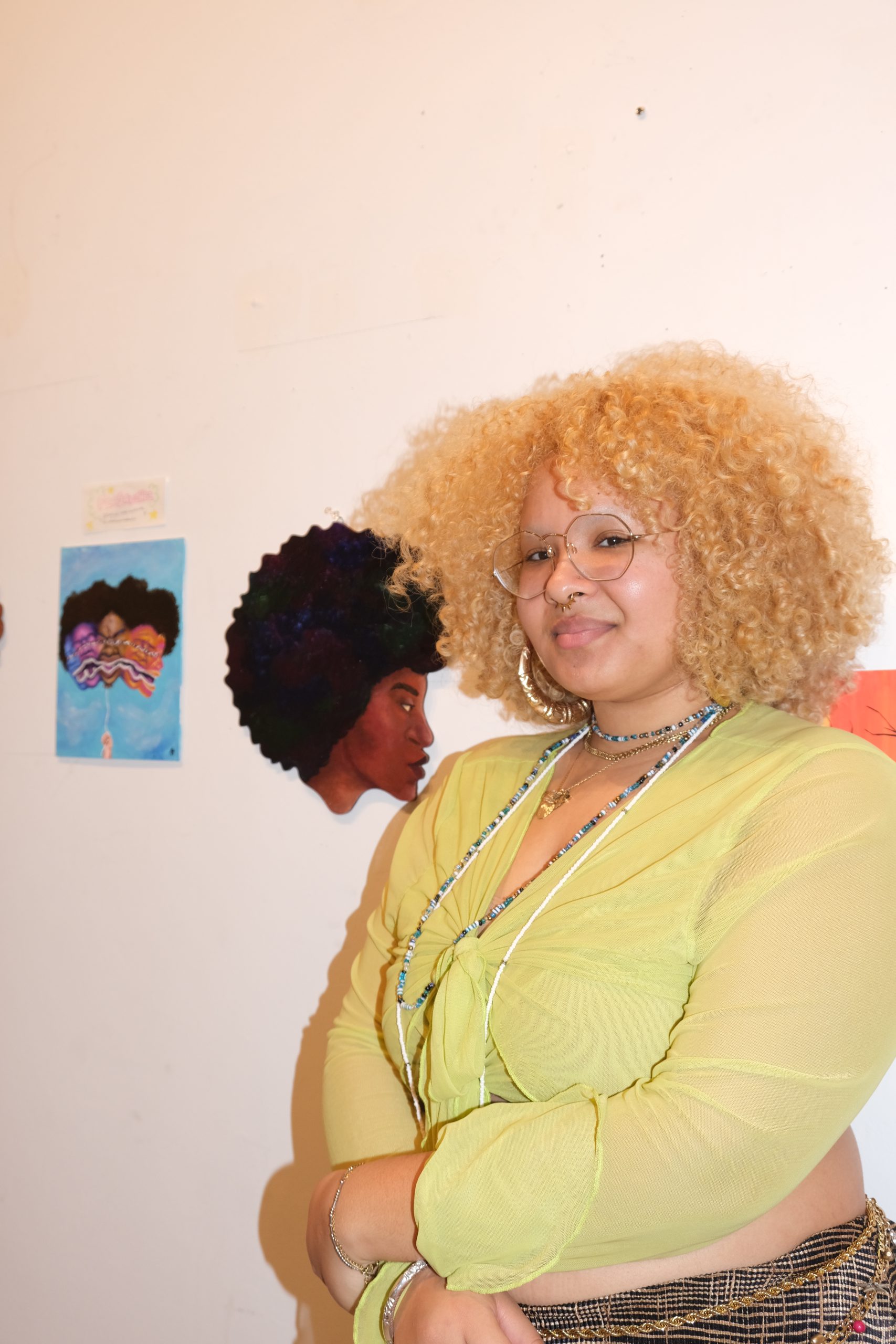 Sanchez is a student at Brooklyn College who majors in sociology. She is a singer and visual artist who heard of the event from a close friend who goes to Hunter. 
She enjoys challenging herself by using realistic and abstract forms of art styles in her work. Sanchez mainly illustrates Black women and the struggles they go through because they are underrepresented in mainstream art. She says the event was a reminder of the importance of highlighting young black artists, and feels strong in her message of Black empowerment in her work. 
"I hope that this becomes an annual thing for Black History Month, I really do, " said Cimone. 
Cimone is hopeful of the "Black Art Is:" event becoming an ongoing event at Hunter to celebrate their Black and Brown artists for Black History Month.