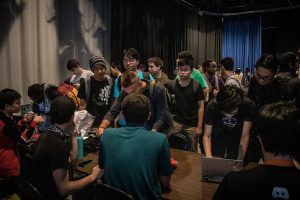 Last fall 10 Hunter College clubs petitioned the continued closure of the third floor in Thomas Hunter and the subsequent closure of club rooms. With over 80 inactive clubs, almost half of the registered clubs at Hunter College are closed. For these 10 clubs, having a space to operate and attract new members is important for the preservation of their groups. Without a consistent space to gather, work, and communicate, it is difficult to draw in and even advertise to new students.
"The East Building is packed with students, Open club rooms would help lessen that overcrowding significantly," said club leaders in their petition. "We believe that being able to open up our clubrooms would both pose no COVID threat to students, and would help in the revival of student culture that we are all hoping for."
According to the E-Sports and Game Development Collective there has been no word from administration on the petition. The various clubs that call Thomas Hunter home are still unable to gather in their club rooms or use the space for anything. These spaces are an important draw for new members, which in turn creates a pool of potential club leaders. Without that many clubs lack a future once current leadership graduates.
"The members don't know the people running the club, so they're less inclined to join," said E-Sports and Game Development President Ethan Eng.
The students in charge fall under the banner of the Executive Board, or E-Board as it is known. This group of students oversee a club's funding, attendance, activities and other leadership responsibilities. Four students must hold officer positions in their club. Fulfilling roles such as president, vice president and treasurer, are necessary for Hunter to recognize a club. Without that recognition clubs cannot take part in club fairs, advertise their club through official Hunter channels,
This remains a troublesome requirement for the E-Sports and Game Development Collective as they struggle to find students willing to fill these positions. Without leadership and a pandemic in full effect, the club has seen the loss of their weekly gatherings as well as low attendance for other game nights and viewing parties.
Before the pandemic, Friday afternoons would find club members running events, from competitions, trivia games or workshops. Generally 20 to 30 students would attend the events. With the transition to online learning, the club would then see only a few students at weekly Discord gatherings.
"People are being cautious and a lot of schedules do not line up. I want to have these in-person events, but it's rough," said Eng, referring to the club's recurring online events. "I don't know if this next semester, when we have more in-person classes, will get better."
Eng says without a response from Hunter College to the petition this is a truly difficult time for those that want to help their clubs out and the stressors of being a student, let alone in a pandemic, is weighing on leaders.
Hunter notified Eng earlier this semester that the club's secretary would have to be demoted because of a low GPA. The club cannot operate in Hunter without each position of E-Board filled. All clubs have until the start of the current semester to fill any vacancies.