After months of masks on campus, the Hunter community can finally see each other's smiles.
Yesterday, CUNY Chancellor Félix V. Matos Rodríguez lifted the mask mandate in CUNY schools that had been in place since August 2021.
While some students felt the freedom of showing their faces, others were nervous about the ongoing pandemic.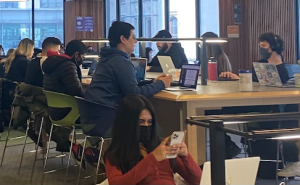 "Most people I saw [Monday] were still wearing their masks," said Stephanye Claros, a CUNY student. "I wanted to take mine off but felt weird because everyone else was still masked up."
Students have the option to continue wearing their masks if they wish to do so. This mandate lift is simply stating that individuals are no longer required to wear a face covering. "Masks will continue to be available on campus and offices for people who want them," Rodríguez stated in his announcement on the official CUNY website.
When it comes to wearing masks, Claros is less concerned with her own health than with others. "I worry about people who have to go home to grandparents or people who have immune issues," said Claros, "but I don't worry about myself getting sick and if it was up to me masks would be gone for good. Everyone in school is vaccinated anyway."
On the first day of the lift going into effect, Aranxa Zapata didn't wear her mask, which usually isn't a big deal if she is outside in a public place. But in the halls of Hunter, she felt different. "I did feel really exposed though," the Hunter student said.
The exposure the Hunter community is experiencing isn't only to COVID.
"I feel like if everyone drops their masks, everyone is just going to get COVID or even a cold or the flu because all our immune systems are down," said CUNY student Sarah Nine. "We're not used to other people's germs,"
Overall the rate of positivity is decreasing steadily since the surge of Omicron, a statistic Rodríguez quoted in his statement.
In order to monitor COVID-19 in the future, Hunter will be administering random testing, and vaccines are still required to attend class in person, with religious, medical, or another exemption applies.
Frontier of Public Health conducted a study in 2020 which showed the difference in human connection pre-mask and post-mask. In this study, they discover the importance of facial communication in human relationships and the effects of a face mask in interpersonal communication.
Re-learning how to show face in public may be hard for some students. "I was at work when the mandate had been lifted for restaurants last summer," said Wendy Santos, a 22-year-old local waitress, and student. "I was so used to serving with a mask on I forgot how to make normal facial expressions to my customers. I found myself making faces and forgetting that people could see me."
For some, re-learning facial cues will be like riding a bicycle. "The thing I've missed the most through this whole pandemic is seeing people smile," said Claros.