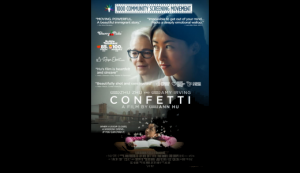 In a scene from the film "Confetti," Lan stood bewildered as she watched her daughter, Meimei, spell out the words "king" and "tree" in chalk.
After a year in a private special education school, her dyslexic child could only spell two words. This wasn't enough for Lan who is dyslexic herself, she wanted Meimei to be normal.
"She's going to be waste, like me," said Lan. 
On Tuesday the Asian American Studies Program and Center hosted a screening and panel discussion for "Confetti," a film based on the life of Ann Hu who wrote and directed it in hopes to raise awareness towards children with learning disabilities. 
"It's an immigrant story. It's a mother and daughter story, and it's about learning, dyslexia and education," said Hu during the panel discussion. "It is about all those things but for me, it's about humanity."
Chris M. Kwok, an Asian American studies adjunct faculty at Hunter College, said the film fit a category of Asian American films that have broken into mainstream media in recent years.
"Confetti" not only contributes to the representation of Asians but highlights the under-diagnosis of learning disabilities amongst Asian Americans. 
While 1.4 million Asian Americans and Pacific Islanders identify with being disabled according to the U.S. Census Bureau, only 7% of Asian American children are served under the Individuals with Disabilities Education Act. 
The model minority myth and the stigma towards disabilities amongst Asian communities also prevent families from seeking aid.  
"Particularly in Asian families if children have issues or are not succeeding academically, and I would say this as a generalization, often they think it's not anybody else's fault except the kids or their own and you just gotta push them," said Kwok. "And if you push them they're gonna succeed."
Nelson Mar, a panelist and the co-chair of the New York State Bar Association's Education Committee, said that it's not just Asian families that have difficulties in navigating learning disabilities but immigrant families in general due to struggles like cultural adjustments and financial burdens. The language barrier struggle was showcased in the film when a Mandarin-speaking student had to step in to translate information between a principal and Lan. 
"That is arguably one of the worst things you can do to put a family through," said Mar. "To have another child translate, let alone your child translate, for you on such important matters."
In 2019, the New York City Department of Education was hit with a civil rights lawsuit for a translation pilot program to be launched for special needs schools. 
On January 26, the Chancellor of Education David C. Banks said New York City officials are planning to open a new school to serve students with dyslexia. The City University of New York also offers the Linking Employment, Academics and Disability Services which helps graduates with disabilities find jobs. Almost 70% of all participants received employment since the program's launch in 2010. 
At the end of the film, Lan accepts the fact that Meimei will never be like other children as the camera zooms out from them holding each other. 
Hu recalls how a child told her that "now I know I'm okay now, I know what I am" after the film, and said her goal is to get a message across and push it as far away as possible. 
"Every single person counts, every little bit counts, a screening like this really, it counts a lot," said Hu.