Gabriella Perez-Hernandez ran to the fifth floor of the West building, nervous that someone would get there before her. She arrived, grateful she found her prize: a tiny plastic baby.
A couple weeks prior, the person behind the Instagram account, @huntercollegeaffirmations, hid 150 small plastic baby dolls around Hunter College's, turning the whole campus into a scavenger hunt. Perez-Hernandez's one inch tall pale-skinned baby, which she named Paula, now sits on her desk next to a frog astronaut.
The student behind the account started it as a joke, or as their account bio says, a "new coping mechanism." They asked to remain anonymous because they dislike attention. "I also don't want a lot of people to bother me about the account," said the creator over Instagram direct-message.
They began posting manifestations that read like inside jokes for Hunter students: "The Hunter elevators will come…. eventually," or "I will find somewhere to sit that isn't on the floor of the Hunter sky bridges." Every photo is edited the same, with a diagonal rainbow gradient and sparkles. The affirmations try to unite students over the college's quirks.
"Being back in school after so long brings back so many frustrations so I guess it was just a way to talk about those frustrations with everyone else," wrote the account's owner over DM. "It's nice to know how many people agree with me and how many of us share these experiences."
The account @huntercollegeaffirmations quickly grew in popularity, amassing almost 2,000 followers since it started posting in early September. In the middle of October, followers started to come together when the student behind the account began to hide tiny plastic babies around campus. Over 40 students posted their chronicles of finding the babies on their personal Instagram accounts. And when the account posted an affirmation of "i WILL find a Hunter baby," several students commented, sharing their own attempts to find a baby.
The student who runs the account never thought people would become so dedicated to it, but is thrilled with the outcome. "You can see people bring it up with people they don't seem to know," they said. "And I think being able to see that moment where people are like 'Oh this is that Hunter affirmations page's things right?' and getting to strike up a conversation that way was really nice."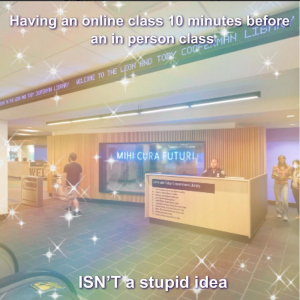 "It's honestly so much more entertaining and liberating, I find it fun that our college experience is more interactive," said freshman Emmy Seignon over Instagram DM. "It was fun to see everyone searching for those babies."
Word got around to the Undergraduate Student Government who reached out to the account hoping to collaborate. However the account creator is not sure if they want to. "I feel like it would be dragging the concept too much," the student said.
They even inspired copy cats. One October day, a reporter found a plastic roach hidden in one of the North building stairwells.