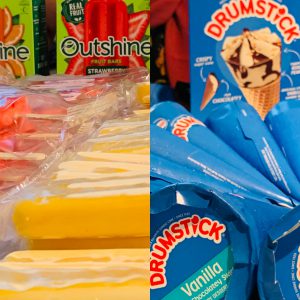 A picnic in Central Park. Boba tea and board games in the Student Union. Ice cream on the main campus. Hunter's Undergraduate Student Government hit the ground running with back-to-back events to kick off the start of the semester and to celebrate community without Zoom screens.
"These events are incubators for new friendships," said USG president Dave Basnet. "They are a great opportunity for people to meet–they're icebreakers."
At noon last Thursday, a line swung around the passageway of Thomas Hunter Hall as clusters of students gathered for free frozen treats.
Students had a range of frozen treats to pick from: vanilla ice cream sandwiches, chocolate and chocolate Drumsticks and a selection of Outshine Real Fruit Bars. Nearly 200 students RSVP'd to this event and only one box of treats was unopened, Basnet said.
"The vanilla Drumsticks were a big hit," he said. 
According to USG finance commissioner Laura Alvim who helped organize the event, free food is the key to a successful event.
That was definitely a draw for sophomore Hannah Koffsky. Masked-up she, Roneque Simon and Anika Haque surrounded a photo booth that stood in front of a silver-glitter backdrop, waiting their turn. For them, the draw was ice cream but she hopes they continue these events throughout the year, "It's extremely hard to make friends and this has made it so much easier," she said.
Freshman transfer student Yasmin Herrera hopes this is true. "This is a great time for friends that haven't seen each other to come together and socialize," she said. "Even for those who are new here like me–we can possibly meet new people with our same interests."
During the almost two years of remote learning, USG held events virtually, however, Alvim confessed they had low engagement. "Students were just not interested," said Alvim. "So we're just happy to be back in person and providing opportunities for students to connect–things that we missed while away." 
Future USG events will focus on mental health wellness and a friend's speed dating experience. 
Basnet said, "There's a lot to expect."