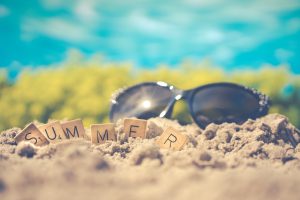 Sanjida Tamim, a clinical psychology major at Hunter, planned to intern this summer with Norwell Health until March, when she missed an assignment deadline. She already wasn't doing her best and realized she would have to apply for Credit/No Credit instead of getting a grade. Not getting credit for the class would mean she would have to take a summer course to stay on track with her current graduation plans. 
"I really didn't want to take a summer class this time around, because I always do. I kind of just wanted to do something different," said Tamim, as she explained how horribly she felt about having to spend the summer in school. "None of my friends are taking summer classes this time around," she said. 
According to CUNY, colleges faced a 17% increase in summer enrollment from 2019 to 2020. There is a rise in people of all ages applying for the new summer term.
While some students are taking advantage of online offerings, others at Hunter have different plans.
"Summer classes are the furthest thing from my mind," said Syemum Shohid, an economics major at Hunter who planned on traveling to Bangladesh this summer. "But because of how cases are going in India right now, I know it's unlikely," he said. 
"I haven't traveled in so long, now I feel safer doing so," said Shohid, who is fully vaccinated. "But it's not just about me."
Shohid missed going to visit his grandparents last summer due to the pandemic. "My grandfather got COVID-19 and passed away and none of us could be there," he said. "I am heartbroken about that, and I wanted to go this summer, see my grandmother, pay my respects, just everything."
Traveling and summer classes aren't the only things that students are doing this summer. "I plan to get a second job," said Destiny Ramnath, a biology major at Hunter. "I need to pay off the tuition money for this semester before I can even think about anything else," she said. 
"The summer is supposed to be a time to relax. That's what I associate summer with, but this year things are different for me," said Ramnath. She plans to move out of her parents home into her first apartment. "This is a big step for me," she said.
Ashleigh Hinds, a math major at Hunter, is also moving this summer, and will work full-time at a grocery store instead of her usual summer travels. "I usually work part-time, but i've picked up shifts all summer," she said. "I need to save up as much as I can before I go back to school."
Hinds usually visits her father who lives in Florida during the summer, but decided that saving up was the more responsible decision. "Plus, my dad tells me that barely anyone is wearing masks down there, and I honestly just don't like the sound of that," she said.
Whether it's safety concerns, the inability to travel, or just plans to save, these students are still making the best of whatever situation they are in. "I know I'm getting a second job and all, but just being out of school feels like a vacation," said Ramnath.