Yusra Ashraf has always been her grandmother's go-to hairstylist. Almost every day, Ashraf, the youngest of four sisters, would brush, weave and share private moments with her grandmother, taking advantage of the time to talk.
It's those moments that stand out to Ashraf since her 86-year-old grandmother's passing. Ashraf, a Hunter senior, lives at her family home in Huntington, New York. In March of 2020, Ashraf's father became sick with the coronavirus, and despite their best efforts, everyone in Ashraf's household soon followed suit.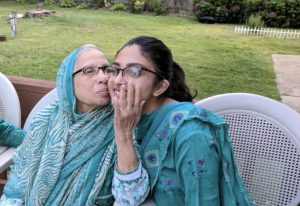 Ashraf and her sister had very mild symptoms, while her mother and father had it worse off. A few days into her grandmother's battle, who's lived with Ashraf's family for over a decade, she required breathing assistance and couldn't get out of bed. On April 10, 2020, her grandmother passed away.
America experienced a rise of deaths by nearly 23% this past year, a Virginia Commonwealth University study found. As of mid-May, nearly 600,000 Americans lost their lives to COVID-19, quickly becoming the third-leading cause of U.S. deaths, right after heart disease and cancer. While COVID-19 was not the only cause of fatalities in 2020, the social distancing mandates enacted because of the virus left many families separated during this time, requiring people to become creative or delay how they celebrated those lives lost.
Today, around 47% of American adults are fully vaccinated, allowing social distancing mandates to lift and providing the opportunity for larger gatherings. Three students who have lost family and friends during this time explain how they memorialized loved ones during the pandemic and explore their options as the world opens up.
Ashraf's family held a small ceremony for her grandmother three days after she passed. "In my religion, Islam, you're not supposed to wait long to bury someone after they pass away. You're supposed to do it as quickly as possible," Ashraf said.
Only Asharf, her sisters and uncles attended the ceremony. They recorded the funeral over Zoom for the rest of her large family to watch.
"From what they told me, it was very upsetting to watch," Ashraf said. This was not how the family envisioned their grandmother's funeral to be like and they wanted to spend this one last moment with her in person.
When everyone in Ashraf's family has received the vaccine, they plan to hold a family reunion — a tradition they do every summer but had to cancel last year. The reunion will be a time for her family to finally get together, celebrate her grandmother's life, go through her belongings and share memories.
"It'll be a celebration because whenever we're together, we're always having fun," Ashraf said. "But it's also going to be sad because this is the first time she's not going to be there."
Taking Advantage of the Outdoors
An acceptance letter to his top choice college arrived moments before Sebastian Berken, Edward R. Murrow High School senior, received a text informing him that a good friend had passed away. "I automatically just started thinking about all our memories together," Berken said. "I hadn't seen him in months because of the coronavirus, and I felt really guilty about that."
Berken's friend passed away last March from a drug overdose, a cause of fatality increasing in the United States over the past year. The six months following the pandemic's start have seen a 12,718 increase in deaths due to overdoses, reports the Centers for Disease Control and Prevention. Drug overdoses often require lengthy investigations and statistics for more recent months are not yet available.
Because of the pandemic, Berken could not attend the funeral. He decided to honor his friend the best way he knew how. "We wanted to get together and remember him, but none of our parents or us had the vaccine yet, and we didn't want to get them sick," Berken said. "He was always hanging out at this certain part of prospect park. We decided to hold two outdoor candle lighting ceremonies. One there and one outside his school."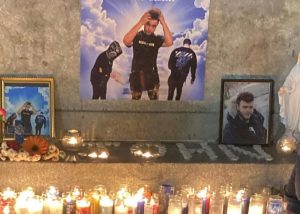 Along with a few friends, Berken relayed the message to others that a ceremony would take place at these spots. For days, once the sun set, friends and family of Berken's friend gathered. Many brought flowers and pictures to leave at the sight.
"His parents came too," Berken said. "We all just gathered and shared our favorite memories of him. It was bittersweet, but I'm glad we got the chance to do it. At first, I didn't think we would."
When Looking Back is Too Hard
The last time Francesca Garcia, Hunter junior, saw her grandmother in person was Christmas 2019. Garcia's grandmother has lived in a nursing home for the majority of Garcia's life. When the pandemic hit her family couldn't visit, not even when she unexpectedly passed away of a heart attack last August.
"It felt really weird and out of place like it didn't make any sense," Garcia said. "Because of COVID going on and all the things we were worried about being a risk for her, and she died from something as normal as a heart attack."
Garcia and her immediate family held a small funeral for her grandmother the week after her death, but family and friends from the Dominican Republic, her grandmother's native country, could not attend.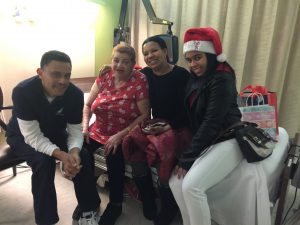 Garcia's family does not plan on holding a larger funeral service now that social distancing restrictions are lightening up.
"I don't think my dad or anyone in his family has considered" it, Garcia said. The family was very shocked and saddened by her grandmother's death, but they don't want to reopen the wound. They're moving on and looking towards the future.
The funeral "felt very desolate," Garcia said. "There's that feeling of her being stuck in that part of history, which kind of sucks because I feel like she deserved more."