U.S. Sen. Charles Schumer is certain that there is no legal barrier to abolishing student loan debt. "The reason I am passionate about this is that the president of the United States has the ability to do this with a flick of a pen," Schumer said.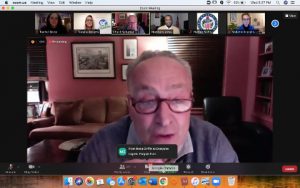 House majority leader Schumer, along with other representatives and advocacy groups, hosted the "Push to #CancelStudentDebt: An Organizing Workshop" on Zoom that called on President Joe Biden to cancel student debt. Over 500 Americans joined the virtual town hall event put together by NYPIRG to continue the momentum to clear scholars' charges through executive action.
Biden has the jurisdiction to sign a law under the Constitution that would nix the over $1.56 trillion federal student debt for over 44 million Americans who have or are currently attending an educational institution, according to the Federal Reserve Bank of New York.
In comparison, one in five CUNY students graduate with no federal education loans, according to the Student Loan Report data. More than 65 percent of undergraduates at CUNY in 2020 completed their studies free of debt.
Biden previously raised the question of whether he can lift the federal burden from millions of borrowers through executive action. He called on legislators to work together and pass bills. He wants lawmakers to make higher education more economical and forgive up to $10,000 in debt, much lower from his previous goal of $50,000.
The Student Loan Justice—a grassroots group pushing commander-in-chief to put an end to student loans by using his executive power—initiated a Change.org petition that collected over a million signatures. The organization contests that the government can continue to feed trillions of dollars into the economy, without national debt being impacted. "We call on President Biden to cancel all federally owned loans in his first 100 days in office, and replace this failed lending system with a less expensive, more state-friendly funding model for higher education," said the advocacy group in the plea.
The non-profit organization NYPIRG says the economy will get a boast and help bridge the racial wealth gap, upheaving the disproportionate burden on Black and Latino Americans.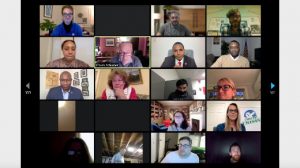 Currently, there are over 30 Congressional Democrats who support measures that would forgive up to $50,000 in student loans, according to a CNBC survey. Meanwhile, there were six Democrats who said they support student loan forgiveness at a lower minimum rate of $10,000.
Schumer was joined by New York State Congressmen Jamaal Bowman, Mondaire Jones, and Ritchie Torres in addressing the student debt crisis. "If we cancel student debt, it's the equivalent of a $300 stimulus check each month," said Torres, representative of south Bronx, on how an monthly economic stimulus would be the same price of a one time loan cancellation.
"Student debt has gotten out of hand. And we have done nothing about it. The idea that this has to be is just wrong," Schumer said.