Many first time voters heard from the eight candidates running for Manhattan district attorney at Roosevelt House's 2021 election forum. The event, moderated by The City journalist Rachel Holliday Smith, gave students the opportunity to pose their most pressing issues during what will be a key election for their borough.
Cyrus Vance Jr., the current DA, announced he is not seeking re-election earlier this month, leaving the position open for the first time in 12 years. The next DA will be crucial in shaping criminal justice and the future of the borough, home to students at Hunter's four resident halls and a second home for others. 
"It will undoubtedly have an effect on each of us," President Jennifer Raab told 200 audience members, kicking off the event.
All candidates are relatively unknown progressives with some, like Tahanie Aboushi, Eliza Orlins and Lucy Lang prioritizing systemic change, like decriminalizing sex work, more than others. 
The remaining five candidates, Liz Crotty, Alvin Bragg, Diana Florence, Dan Quart and Tali Farhadian Weinstein largely agree with their competitors, like on ending mass incarceration, but call for less radical change. 
For over two hours, the candidates took questions from Hunter students and the audience. Mental health, policy change and allocations of funds were common themes. Attendees didn't shy away from asking hard-hitting questions.
"Will you disband the special narcotics prosecutor," asked student Emanuel Zbeda, a key issue that many candidates disagree on. Crotty and Lang agreed that it needed to be revamped, but not disbanded while Orlins said abolishing it completely is a priority. 
 Another wanted to know how the next DA will use the accumulated asset forfeiture funds. A third student asked how each candidate would handle a case as high profile as Donald Trump's current investigation.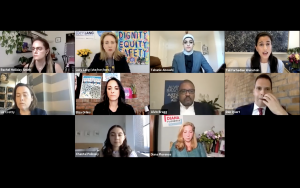 "Why are you qualified to be a Manhattan district attorney at a time when law enforcement officials are being called on more than ever to balance public safety with equity and respect," asked  McCauley Honors student Chantal Polinsky.
For some candidates who were born and raised in New York, like Bragg and Crotty, the answer came naturally.
"I understand what the nuance is of being in New York and how there are some unspoken things about how we all live here," said Crotty, who was a criminal justice lawyer upon joining the DA's office in 2000. 
Bragg echoed the sentiment, sharing that he grew up in Harlem and was held at gun-point six times; three of those times were by cops, according to Bragg. He has worked in the courtroom for two decades and most recently served as chief deputy attorney general in New York state.
For other candidates, like Orlins and Florence, hands-on experience with those they  represent is the most important qualification.
"I think it's really important that you do work in the trenches," said Florence. "And I didn't just do it the same old way, processing people like a justice factory. I worked not for, but alongside the people I was serving," she said.
Lang cited a similar experience during a case representing a mother whose son died from gun violence. "It is that kind of deep engagement with communities most affected that is going to put the district attorney's office on the right track," said Lang.
Orlins, who even warned audience members that her competitor, Farhadian Weinstein was a "dangerous candidate," has been a public defender for over a decade and has represented over 3,000 New Yorkers. Farhadian Weinstein left prior to this and did not have the opportunity to respond as each candidate spoke in a predetermined order.
Farhadian Weinstein and Aboushi cited their firsthand experience as minorities who faced systemic injustice.
"At 14-years-old, when my father was sentenced to 22 years in prison," said Aboushi, who has notoriously fought for minority rights as an attorney. "It's why I became a civil rights lawyer, to battle some of the worst abuses of our systems," she said.
Farhadian Weinstein, who came to America from Iran as a child, stressed the importance of people feeling safe and having opportunities. "I know how important it is to have these institutions that create pathways for people to succeed and to thrive." She has served at the U.S. Department of Justice and as an Assistant U.S. Attorney.
Like Aboushi, Assembly Member Quart mentioned his extensive experience working in legislature and the court as to why voters should trust him. He has served representing Manhattan's East Side and as an attorney. 
Candidates were not given the opportunity for final statements in the interest of time. Roosevelt House hasn't yet announced the third election forum date.