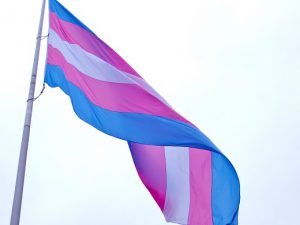 Less than five months into the year, 2021 broke the record for most anti-transgender legislation ever filed. Bills proposed in South Carolina, Texas, Michigan and many other states attempt to limit or ban transgender people from access to medical care and prevent transgender women and girls from participating in sports.
When CUNY student Nicholas Cevoli brainstormed ideas to advocate for the trans community as part of his internship at Brooklyn College, he thought to revive Trans CUNY Town Hall.
The town hall met only once before in Oct. 2019.
"I thought it would wake up some people who might not be aware of what's happening or may have forgotten," said Cevoli. "I wanted this to be loud."
The two-hour event took place last Wednesday. Panelists came together to discuss issues at CUNY involving bathrooms, pronouns, harassment, and lack of resources. 
Town hall attendees universally condemned CUNY's failings to protect and advocate for trans and gender non-conforming people.
Gender-neutral bathrooms are few and far between, usually in isolated locations, panelists say. Attendees push for CUNY professors to take LGBT education training and to include information on pronouns in their syllabuses.
Among the attendees was Elisa Crespo, the first transgender woman of color to make it on the ballot for New York City Council.
"We did not win, but we made history," said Crespo on her run to represent District 15.
Cevoli and many others experienced microaggressions and exclusion at CUNY colleges.
"I was isolated. There were no other trans professors. There wasn't support," said Cevoli. "That took a toll on me."
Émilia Decaudin, Democratic district leader in Queens, pointed out that CUNY sells diversity, but does not enact it.
"Being trans in CUNY is not an easy experience," said Decaudin. "The university absolutely falls short of its rhetoric."
Last year, the student government conducted a survey to gather support for the addition of pronouns to class rosters.
CUNY did not respond when asked to comment on the lack of accessible gender-neutral bathrooms and the unresponsiveness of administration to change deadnames on the email logins of trans students, among other issues.
Many panelists mentioned feeling unsafe at CUNY campuses. After one trans student reported a sexual assault to CUNY, they were denied help by CUNY's administration and told they would still have to pay for withdrawn classes. Unable to afford to continue their education, they were forced to drop out.
  Panelists say CUNY is unresponsive when it comes to updating names on emails and email logins for trans students. 
 "If I want to introduce myself to someone, I have to deadname myself first," said panelist Theadora Williams.
 Only when Williams threatened CUNY with legal action did her case move forward.
 "People will discriminate against us and hate us," said Williams. "Nothing happens. They are just in power and they stay there."
 Council Member for the 6th District Helen Rosenthal shared her support as well. 
 "I don't think CUNY has come through for the LGBT community, the trans community in particular, at all," said Rosenthal. "What CUNY leadership really needs to do is diversify its LGBT presence in the administration and its board so that the people making the decisions know what they're talking about."
 "This is no longer just about making safe spaces for us," said panelist Abigail Thomas. It's about making every space safe."