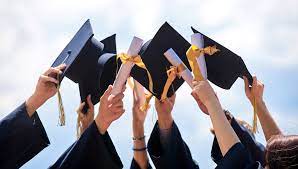 Many students all over the country will not be able to attend their college graduations due to the pandemic. As a result, students are doing what they can to make the most out of the virtual celebrations that will take place at the end of the spring.
As spring is emerging and graduation season is approaching, Julia Coe, a senior at Hunter
College stares at her computer screen contemplating whether spending $70 on graduation robes is worth it. As of now, graduation is expected to take place online as a prerecorded video for graduates to watch on their own time with their families.
Hunter's last two graduations have been virtual. Instead hosting a live Zoom session for students to participate in, videos were posted in which students were honored with their names being listed. The May graduation will be online as well but some students are hoping for something more meaning than watching a video with their families.
"I've watched both of my older siblings graduate college in a traditional way and it's hard not to be envious of that," says Coe. She never expected that her high school graduation would be her final graduation to take place in person.
Graduating seniors have almost spent the same amount of time attending college online as they did in person. Many colleges around the country have considered this and have tried to come up with ways in which the class of 2021 can have a more meaningful send off.
Aaron Ginsburg is a graduating senior at SUNY Albany, a college that's taking a different approach than CUNY in how they are preparing to graduate their seniors. After having virtual graduations for the past year, the university is planning on separating their graduations by department. The ceremonies will take place in person but will operate in smaller groups over the course of a few days in order to maintain social distancing.
"I feel like the model Albany is using for graduation is something that all schools should consider this spring," says Ginsburg. "Students have worked insanely hard for the past four years and they deserve to have a genuine graduation experience and can still do so in a safe manner."
In mid April, Eija Ayravainen, Hunter College's vice president for student affairs sent out an email to the community in which she informed staff and faculty that the spring commencement would take place virtually on May 27.
"While we plan to have a large virtual celebration with pre-recorded videos," says Ayravainen. "We will continue to stay in touch with opportunities for smaller, in-person celebrations." It is still uncertain what these small events will look like.
Adam Tulibacki, a Hunter College senior, knows how he wants graduation to look like this spring.
"Hunter should give the option for a virtual service along with an in person celebration with safety precautions in place for those who are willing to attend," says Tulibacki. "This could include requiring proof of vaccination or a negative covid test."
Tulibacki and others say that although an in person graduation will not be easy, it is certainly not impossible and should be attempted to celebrate those who have proudly and successfully completed four or more years of education.
Earlier this week, Gov. Andrew Cuomo discussed New York state rules for graduation ceremonies after months of uncertainty that stated High schools and colleges will be allowed to host indoor and outdoor graduations with strict attendance and COVID-19 test requirements.
Graduation ceremonies will look different this spring depending on which schools students are attending and where they are located. Students like Griffin Kearney whose graduation will be online, still plan on celebrating with their family and friends on their own time in a safe manner.
"As long as I'm surrounded by people I care about," Kearney says, "I am willing to finish college behind a computer screen."