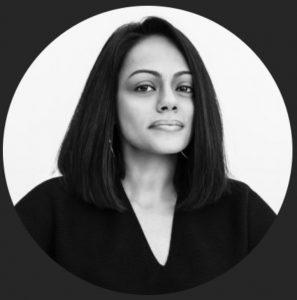 Sasha Ahuja is quick to give credit to the CUNY system for her success in political activism. Ahuja, a Hunter College graduate was recently tapped to run Andrew Yang's high-profile mayoral campaign.
"I was deeply politicized by organizing work on campus," Ahuja said over a Zoom call, referencing her work with classmates, peers and professors fighting tuition hikes, advancing mental health and childcare resources for the numerous CUNY students raising children while attending school.
Speaking from a sunshine-lit office with a Ruth Bader Ginsberg plushie behind her, Ahuja passionately described her time organizing on-campus as, "the work that shaped" her. That work prepared Ahuja for leadership roles with Planned Parenthood, New York City Council Speaker Melissa Mark-Viverito's office and gender equity group Girls for Gender Equality.
A native of Valley Stream, New York and the daughter of a yellow taxi driver, Ahuja, 33, began her work in labor organizing as a teen with the New York Taxi Workers Alliance. She credits the multiracial women in leadership at NYTWA for inspiring her to pursue a career dedicated to serving marginalized communities.
But Hunter College, where Ahuja graduated from in 2009, is what Ahuja credits for an intellectual awakening that paved the way for future successes. One educator who shaped Ahuja's experience, lecturer and advisor in the Women and Gender Studies Program at Hunter, Jennifer Gaboury, still remembers Ahuja's tenacity and drive to improve the community circumstances of those around her.
"For us, Sasha typifies exactly what we want to see students doing," Gaboury said, reciting a laundry list of campaigns and communities Ahuja worked with at Hunter. "Sexual health and justice, racial justice, equity, poverty issues, anti imperialism," were just some of the numerous issues Gabourey recalled Ahuja working on during her time at Hunter.
Gaboury described a "cohort," of students including Ahuja who were particularly politically active and engaged. Those students affected change from an initiative to get students more space in the form of a student lounge, to the formal transition of the Women's and Gender Studies Program from concentration to major.
Former USG President at Hunter, Ahmed Tigani, doubled down on Gaboury's assertion that it is almost impossible to identify Ahuja and her time at Hunter by focusing on one specific issue. Tigani and Ahuja met while living in the Hunter College dormitories and quickly established a friendship through their mutual interest in helping their fellow students.
Chuckling, Tigani could not point out one defining accomplishment for Ahuja, instead praising her for an encompassing drive to keep "pushing the envelope," through a near tireless devotion to "working to figure out how to improve people's lives."
"The beauty of that time," Tigani recalled, "it's happening every moment…you're socializing and talking about what you could be doing to make the world better." At the center of that was a balance that not only sought to advocate for underserved and marginalized communities, but a desire, "to create joy and memories while putting in place critical resources for students."
Ahuja's current role with the Yang campaign positions her to impact policy decisions that will help New Yorkers and CUNY students receive some of the critical resources Tigani mentioned.
Describing Yang as a "no nonsense, deeply authentic visionary," dedicated to the "radical transformation" of a "broken economy," Ahuja says Yang is the candidate best poised to directly impact the lives of "everyday New Yorkers," and CUNY students.
Professors like Gaboury are hopeful Ahuja's strong political views will color the Yang campaign in a way that is impactful for students and educators, especially on a financial level. The Yang campaign, though, has yet to release a specific higher-education plan.
While Ahuja did not provide any specifics, Yang's presidential campaign website offers certain clues. The website specifically states that, as president, he would seek to "control the cost of higher education," and "prevent students from being saddled with lifetime debt."
Beyond the policy concerns Hunter students have for every mayoral candidate, Ahuja's success in advocacy and new role with the Yang campaign serves as a beacon for students concerned about their futures.
Hunter student Hannah Kavanagh sees Ahuja's success as, "a roadmap for what the future could potentially hold."