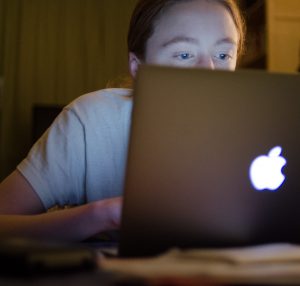 Michael Gitlin sat in his son's bedroom in upstate New York teaching his class via Blackboard Collaborator when a student asked about the final exam.  "Good question," said Gitlin. "Well it is not going to be the original exam that I had planned."  
Gitlin, a film professor at Hunter College. had an easy time transitioning from physical classes to seeing his students through a computer screen.The biggest change for him, and for some other professors, was changing the intensity of his final exam. Gitlin cut his original test nearly in half: what was once a 50 questions exam with a mixture of short written responses and multiple choice questions turned into a 30-question quiz.  
Gitlin minimized the test because he said, ultimately, it's not the optimum way to measure what students learned. With a long resume of filmmaking Ginlit knows that directly working with a camera is the best way to learn the art of movie creating.
"This class needs to have a hand on experience to fully learn and enjoy it." said Gitlin. "Already in lecture students don't get it. That was the point of the lab, but now they don't get anything." 
Gitlin requires students to use school cameras to film their final project. Now at home students have the challenge of recording on their phones and another camera like GoPros that are not usually used for filming movies. 
Having understanding professors is a godsend for Johanna LeBlanc, one of Gitlin students. As an emerging media major, with a full-time job and a mother who is recovering from COVID-19, LeBlanc appreciates that Gitlin cut down the test.
"I think it's a moral gesture given that a lot of students are dealing with serious downfall since the Coronavirus hit," said LeBlanc. "If the professors weren't as lenient as they were, I'm not sure how I would have gotten through the semester. " 
Collin Craig didn't know what to expect for his first semester of teaching English at Hunter, but having to go remote wasn't part of his original plan. After having so many starts and stops to the schedule, he changed his student's final paper and dropped a few the required assignments from his syllabus. 
"It's hard to gauge how students are learning or processing information in the distanced learning environment," said Craig. "Some of them are dealing with more distractions that make their ability to focus a little more challenging."
Originally Jesssica Rothman planned to assign a 30 page paper to her ecology students. But after a few begs from her students saying they are overworked she cut it down to 20 pages and then to 15. "The change made me very happy because it's less work and stress," said student Nimra Rahaman, a human biology major. 
History Professor Aaron Welt changed his final exam to a 10-page paper. This worked out well for his students, Karla Itara who double majors in history and anthropology, because she is more comfortable answering questions in an essay.
Film professor Gitlin recognizes the challenge that his students are facing because him and his wife, who is also a professor, see the difficulties that  his 12-year-old son is having with distance learning. 
"You have to have the right personality to teach online. Hopefully next year we are back in physical classes," said Gitlin. "I think it's not fair to give the students a vigorous test during this time it not fair."