Just two months into her finance internship at a startup company, Hunter College senior Madison Ryan says she learned more on the job than she ever had in school.
"[In class] you're learning the background of concepts which is really important. It was good to have that in the back of my mind but then actually using it was taking it one step farther," she said. "That was just really exciting to see."
Ryan says she was treated like a part of the team, and even received career advice from her superior during weekly meetings. When talks of working from home began at the start of March — two days after CUNY announced the switch to distance-learning — Ryan got a call from her boss: Her internship was suspended.
"The last email I got was saying, 'we're going to let you know when you can come back,' but I know [the shutdown] isn't wrapping up anytime soon," she said. "I doubt they're wanting to hire interns after the huge amount of money they're losing."
Roughly 17 million Americans filed for unemployment over the past three weeks. Graduates from the class of 2020 are now compared to those of 2009, as students will likely enter the job market during a recession. Ryan says she made connections with her colleagues and superiors, and the company wanted her to come back after graduation. But she does not know whether she will return.
Without relevant job or internship experience students are half as likely to find a job after graduation, according to a 2017 study. For college students looking to gain work experience, the search will not be easy. An estimated one million internships will be canceled this summer, according to Pay Our Interns. Before the shutdown, senior Catherine Abano interned at SiriusXM, and signed the contract to return for a summer internship position.
"Hopefully everything gets better by May so we can go back into the office by June, but they haven't really updated me," she said.
With relatives in the healthcare industry, Abano is the only member of her family that cannot go to work. Before her internship was suspended, Abano managed various tasks and began booking guests for the radio show she worked on. Networking with colleagues was an advantage of the job.
"You have people you can talk to if you want to switch from talk [radio] to music, or music to sports or something like that," she said. "You can always set up a meeting with someone, but now it's like, I guess you can do it via Zoom but the internship is suspended. Is it even my place to talk to people right now?"
Ryan says she is looking for opportunities in finance. Some employers emailed her and said they are not doing summer internships.
"I feel like I'm wasting time," she said. "I've definitely had a couple of those emails and it's kind of disheartening."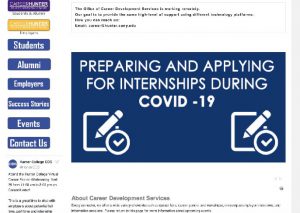 Hunter College's Career Development Services website has advice for students who are looking for internships and job opportunities during the pandemic. The school's internship coordinator, Paula Wicklow, says students should concentrate on what is in their control, by using this time to work on any skills or projects, and reaching out to employers to ask about remote internships and fall positions.
"Sometimes the best opportunities are the ones you make," she said.
Wicklow says the center continues to offer its services online and will host a virtual career fair on April 29.
Ryan has used this extra time to work on her resume and cover letter, and will continue to apply to jobs. She is still in communication with her team and is connecting with them on Linkedin. Although losing her internship was "horrible," Ryan says she has accepted it and is grateful for the experience
"I think it's really just having time and seeing the bright side of everything," she said. "The first couple of days really suck losing it, but you get over it."