Through the end of the semester, Hunter College is lending free laptops to those who need them. While students are grateful for the assistance, the red tape they need to go through tarnishes their appreciation.
Ever since CUNY moved to online learning in March, students who do not have internet or computers at home, struggle to communicate with professors and attend class virtually.
Fourteen percent of households with students do not have internet access, according to a 2017 study by the National Telecommunications and Information Administration. Also, according to a CUNY report, 60% of students are in low-income households making less than $30,000 annually. Combining both variables together shows the odds for households without internet access and emphasizes the significance of the laptop loans for students.
In the first week of April, psychology major Wendy Genao picked up a loaned laptop. Before this, she couldn't connect to her classes because there is no access to a computer in her home. She first attempted to complete assignments by asking classmates to send them to her and checking Blackboard on her cellphone. Unfortunately, not all CUNY classes use Blackboard. But this didn't solve the problem of attending her virtual classes. Once, she got the laptop from Hunter, she was relieved. "Hunter offering a helping hand is something I'm very thankful for," she said. "It not only helps us with the pandemic but helps progress our education."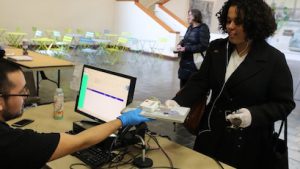 With the support of Governor Cuomo, CUNY purchased 30,000 laptops and tablets for distribution amongst CUNY colleges, including Hunter. Some of the loaned devices came from the library's stock of equipment. "We are trying to distribute as much as possible to those in need," said Miesha Smith, director of student life.
To apply for a laptop loan, students must fill out an online form and prove they have an active Hunter ID, be registered for spring 2020 courses and have no registration hold. Students can also choose to pick up the equipment from campus or have it shipped to home.
Applying for a laptop loan took sophomore Alexis Handle 7-10 business days, after having it shipped to her house. "The process was a little tedious, almost felt like a scam. I couldn't believe that CUNY would be lending us laptops. Previous to this, I had absolutely no access so I was missing out. I was relieved when I received it. I can now access my online classes." 
Freshman Alex Karisko found out through a friend about the loan and began the process. He was confused about the "fine print" of the agreement of the laptop loan. Karisko said, "The breakdown of the agreement is a little confusing at first. I have to basically guard this laptop with my life due to the amount of penalties."
Students must return laptops to the campus by the end of the day on May 28, 2020. Failure to do so will result in an overdue fine which is $25 per day. The agreement states that if the laptop is damaged, lost, stolen, or not returned, the student is responsible to pay the replacement cost which is $250 plus the accrued overdue fine.  If these fines are not paid in full by graduation, students cannot register for classes, graduate or obtain their diploma or transcript.
"The process is strenuous but we are confident that together we will get through this," said Brian Buckwald, director of Assessment for Student Affairs. Information on laptop loans for summer has yet to be released.