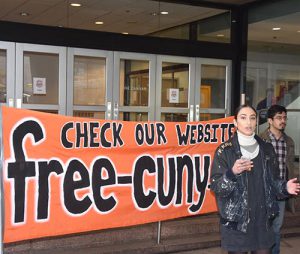 By Rama Syr
On November 20, Free CUNY members and the Youth Democratic Socialists of Hunter College came together to alert Hunter students about the college's plan to to rent 3,000 square feet of ground level space to Starbucks in Hunter West.
The contested area has been closed since May. Prior to that The Canvas, a retail and creative studio that promotes environmentally-friendly fashion, rented the space. Student organizers are upset with the college's plans to corporatize the area by allowing for another Starbucks in the area. Within a nine block radius, there are three Starbucks' and one Dunkin' Donuts.
Representing Free CUNY, videographer and student activist Briana Calderón-Navarro gave a speech, demanding that the Hunter gives them more information and to give students a say about what happens to the space.
"The administration refuses to answer basic questions about the Starbucks deal, including, 'When will construction start? How much money is Hunter gaining from this deal? Where is that money going?'" said Calderón-Navarro. Starbucks will be sharing the space with Grishko, a dancewear company. "It is unclear how these businesses serve interests of students," said Calderón-Navarro to a crowd of 50 students in front of Hunter West.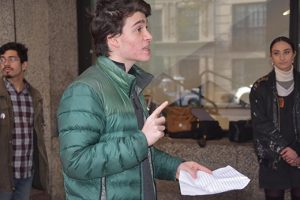 Isaiah Halley-Segal, a member of the Youth Democratic Socialists, came to to protest because he doesn't like how crowded Hunter is.
"As a student at Hunter College, I care about where our space is allocated and I care about the crisis of overcrowding in our school," Halley-Segal said. "It's kind of outrageous that we're getting 3,000 sq ft taken away from us."
In her speech, Calderón-Navarro said how important it that how the space should be used should be up to Hunter students.
"Did you know that 48% of students are food insecure? And 55% are on the verge of homelessness?," Calderón-Navarro said. "This space could become a food pantry for students who go hungry every day on campus. This space could be an art gallery or an event venue for clubs. The possibilities are up to you!" Calderón-Navarro said. Hunter students cheered.
A few students present voiced opposition to the upcoming Starbucks because it would take away their only space to smoke.
"We have no space to smoke cigarettes," said Martin Schneider, a senior. "We're allowed. We're 21. This is an area that's enclosed, so when it rains we can go somewhere," Schneider continued. The outside area of the space has a roof that guards against the rain and side benches for seating.
Kenneth Del Cid, a sophomore at the college, was disappointed in Hunter's real estate decision.
"I would be really bummed if my college wouldn't try to help me with my tuition, my education, my opportunities but would degrade my college experience by putting an entire corporation worth of foot traffic in my university. Smoking, not-smoking, art space, whatever it may be," Del Cid said.
According to The Envoy, the campus' student run newspaper, an unidentified student activist videotaped President Jennifer Raab in the third floor of the North building, saying that the agreement will help students. "We are putting a Starbucks in order to help take all the money we make from the rent to help support students," Raab says in the video. There is no official statement yet.
Free CUNY has sent a FOIL request to Hunter College's legal team on November 5, but were told that they'd find out if their request for information would be granted on December 6. Student activists have been requesting more information on the situation since the spring 2019 semester.