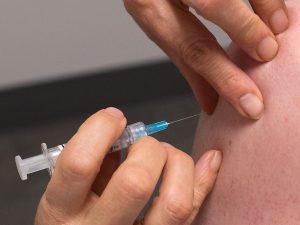 Winter is finally here, which means that it's time for cozy fires, warm hot cocoa, holiday lights, Christmas carols and… flu shots. This is the second year that CityMD Urgent Care is providing the Hunter community with free flu shots in courtesy of Hunter College.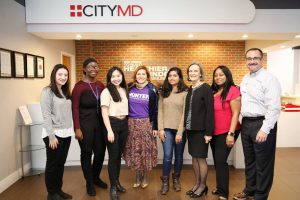 Unfortunately, not many students are taking advantage of this free opportunity according to Cynthia Cortes, an administrative assistant at CityMD Urgent Care. "It's been about a month now and so far, we've only had like 20 students come in to take their flu shots," said Cortes. 
One Hunter student said that people who don't get vaccinated are irresponsible, because they can get others sick. "People who don't get the flu shot might spread the flu virus to someone else who could've been completely healthy," said Faiza Khan, a freshman at Hunter. A couple of years ago, Khan could not get out of bed for an entire week due to the flu that she caught from one of her friends who didn't get the flu shot.  "Personally, I don't want to be the cause of someone getting sick," said Khan.  
A common reason why some Hunter students avoid flu shots was due to their negative opinions about vaccination. "I read an article that said that getting the flu shot can actually cause you to catch the flu," said Edith Cano, a freshman at Hunter. Cano, who had gotten the shot multiple times in the past, said that she still got the flu even after being vaccinated. "I just don't see the point of getting the shot if I'm going to get sick anyways." 
Like Cano, there are other Americans who believe that the flu vaccine can give a person the flu. In 2015, 14% of 3,000 adults reported that they worry the vaccine could infect them with the flu, according to the NPR-Truven Health Analytics Health Poll. However, this is a common misconception. In fact, receiving the flu shot is highly recommended by the Centers for Disease Control and Prevention, whose study suggested that the flu can be life-threatening, increasing a person's likelihood of needing admission to an intensive care unit by as much as 82%. 
Another student, Shaina Falu, a senior at Hunter, noted that she opts out from receiving the shot every year because of the side effects that she experiences when she gets one. "I have some of the worst side effects whenever I get the shot," said Falu. "One year, I had both a headache and body ache that I couldn't even take my finals."  
Other side effects of the flu shot include headache, sore throat, runny nose and constant coughing—symptoms similar to the actual flu—which contributes to the reason why many people believe getting the shot causes the flu.  
Still, health professionals recommend that everyone ages 6 months and older receive the vaccination. "Side effects are just the body's immune system temporarily  reacting to the vaccine," explained Dr. Wenny Hu, a pharmacist at CVS Pharmacy on 68th St., Lexington Avenue. "They last very briefly unlike the actual flu symptoms, which can last for a week or even longer."
According to Dr. Hu, flu shots must be taken every year because the type of flu that circulates the air changes each flu season. "Flu vaccine provides protection against flu viruses that researchers believe will be most prevalent for that year," said Dr. Hu. "So just because you received your shot last year, doesn't mean you're safe from the flu this year."  
For students who have not received their free flu shots yet, the offer is available until March 31 at any of the CityMD locations upon presenting their Hunter ID cards.