On Giving Tuesday in early December, Bangladesh Development Project, a non-profit club at Hunter, kicked off a series of fundraising projects on social media and raised $1,800 to sponsor tuition for 18 underprivileged children in Bangladesh.
Bangladeshi students make up the second-largest group of Hunter's enrollment. "College students don't do enough for Bangladesh," says Executive Director and Hunter alum Tahmid Zawad. "We needed an organization that caters to Bengali students because Hunter has a huge Bengali demographic."
BDP's largest project to date was funding iftar in Panthapath, Dhaka, the meal Muslims have after sunset during Ramadan in May. Throughout the course of a week, 1,000 impoverished people picked boxes of food containing rice, chicken, fried onion, bananas and jilapi, a Bangladeshi dessert. "We are extremely proud of you for supporting us on this very important initiative through your generous donations," BDP shared on Instagram referring to the $1,200 they raised.
BDP is run entirely by CUNY students and recent alumni, most of whom are from Hunter College. Vice President Nafiul Bahri says becoming a Hunter club strengthened the organization because they "can reach out to college students for donations in a more transparent way." 
BDP became a chartered club at Hunter College this semester. "We want to give Hunter credit for uniting all of us," said Bahri.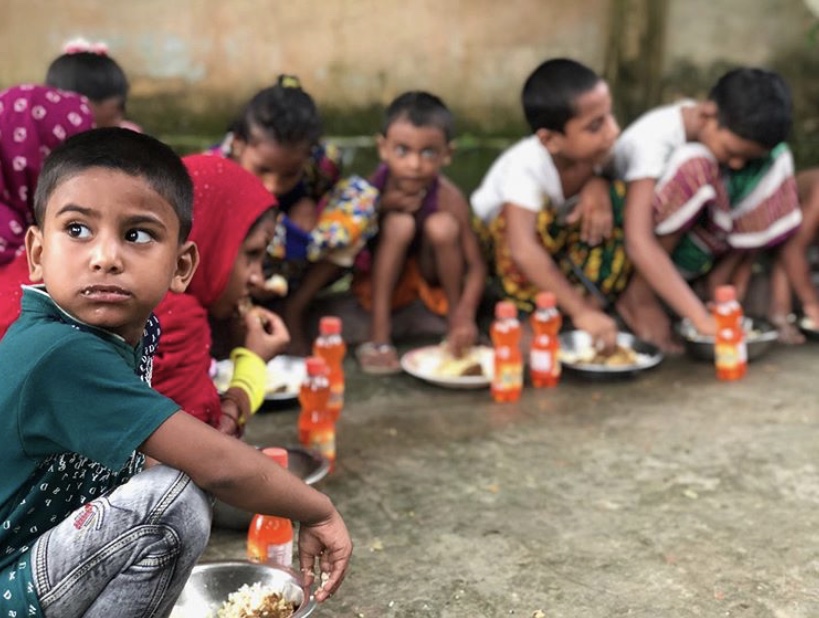 Through social media donations, the two-year non-profit organization recently provided dozens of students with basic school supplies and distributed food to 350 families by partnering with a local Bangladeshi charity. 
To check in on their recent project, Zawad flew to Bangladesh and says the experimental collaboration with Social Welfare Organization grew into a permanent partnership because they have close-knit ties with their community in Comilla. Since then, Zawad says it led to "a long-term project in mind. To sponsor children for nine years from class four to twelve and cover full tuition, school supplies, uniform and transportation." Sponsoring one child takes $110 every month. 
This project is to combat the education crisis says Zawad. In the last 20 years, enrollment in primary schools has increased by 35%, according to the United Nations. However, around five million Bangladeshi children that come from poor families and urban slums remain out of school, according to the World Bank. 
Dropout rates for girls have decreased, however, in the past 28 years according to the UN. In 1981, over 79% had dropped out compared to 29% in 2009. BDP says it is due to the "cultural beliefs of viewing women as inferiors or being limited only to household arena result in many young girls confined within the houses before or after their marriages," on their site. 
Founder and Hunter alum Ashabul Khan says he created BDP to raise awareness of the injustices that underprivileged children face in Bangladesh and make a difference. Their main focuses are education, healthcare, prostitution, child labor and early marriage. 
The organization primarily uses social media as a means of fundraising. BDP "has a big advantage on social media because young people like hearing what we have to say, listen and donate," says designer Mouya Khan. 
The organization has about 3,000 followers across their social media pages and is constantly engaging with Bengali Americans by spreading awareness of issues regarding Bangladesh like the "unjust labor laws, unequal educational opportunities, and healthcare inequities," they state on their site. 
About 29% of online donors say that social media is the most effective tool that inspires them to give. Gen X donors give an average of $732 annually with 17% going to children and youth according to Global Trends in Giving Report. 
In Bangladesh, BDP has two offices in different cities with over 20 liaisons who do fieldwork like research and finding communities in need. "We have a growing network of people there to help us do the work we can't do," says Bari. This includes college students, people who want to help, friends and family of members from BDP.
Among them is Farhan Samin, an active volunteer and college student from Bangladesh. Samin was eager to join when he learned BDP is "run with generous student funding and activities." "I believe it needs a big and efficient team to successfully pull it off," he says, in order "to raise funds to facilitate the education of children." 
Besides social media campaigns, BDP also hosts in-person fundraisers around Bangladeshi cultural events like Durga Puja, an annual Hindu festival and Chand Raat, the eve of Eid ul-Fitr, a Muslim holiday. Zawad says a spring charity dinner is in the works to fund future projects like partnering with Silette Medical College to distribute menstrual pads to women.