If it wasn't for Hunter College, Kiku Ono wouldn't eat as many vegetables. Every Thursday either her or her boyfriend head to the third floor of Hunter North to pick up a bag of produce and then cook together at the Brookdale dorm where they live. They split the $14 cost per bag. Ono finds that healthy cooking at home is much easier.
"I would like to have a balanced diet, it's not always possible," said Ono, a senior studying music. "I probably eat out more without that Fresh Food Box."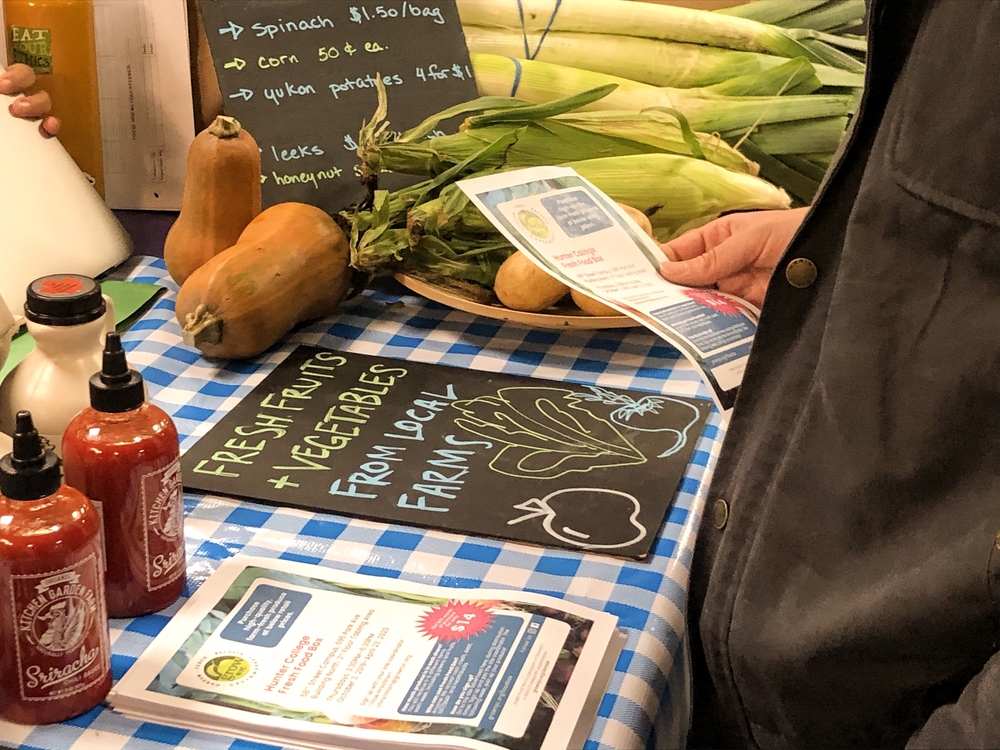 The Fresh Food Box, a weekly program at Hunter that distributes fresh fruits and vegetables to students, fights food insecurity on campus. Dietary deficits can lead to malnutrition, obesity, low mental health and poor performance in school, according to several research studies cited by Dr. Platkin, executive director of the Hunter College New York City Food Policy Center, in a statement to the New York City Council. About one in four CUNY undergraduates experience food insecurity, according to a 2018 study by Healthy CUNY.
Fresh Food Box alleviates students' food insecurity by distributing produce every Thursday between 3:30 p.m. and 6:30 p.m., providing any Hunter student with access to fresh, healthy food, according to the university website. Anyone interested can head to the third-floor counter in the North building where they order and pay for a bag a week in advance.
With the Fresh Food Box, students pay $14 a week for a bag that would typically cost $20 to $30 dollars, according to GrowNYC, the creator of the program. The program has supplied over 500 participants with fruits and vegetables, according to a Hunter College spokesperson. Hunter also introduced other initiatives on the Brookdale campus such as Farmer's Fridge, a vending machine restocked daily with handmade meals, and The Purple Apron, a twice-a-week food pantry, to address food-related concerns.
"It's so easy to just go outside, pick something up from McDonald's, or like some restaurant nearby, or something quick because we have work to do and what not," said Ono. "I'm not the type of person who will just go out and spend money on food every day for like lunch and dinner. So I try to be conscious of that while also trying to be healthy, and it's a super hard balance just because of the options we have around here. "
A combination of factors amplify food insecurity for those at CUNY. Sixty percent of CUNY students report an annual household income of less than $30,000, 45% are among the first generation in their family to enroll in college and over half work for pay, according to a 2016 study by the Office of Institutional Research and Assessment. These circumstances mean CUNY undergraduates contend with higher levels of food insecurity, according to Dr. Platkin.
"The bottomline is we believe that affordable and accessible healthy food should be a basic human right," said Dr. Platkin in his statement to the New York City Council.
Hunter spreads the word about its food insecurity programs through emails, digital signage across the college and the college website. Students must request assistance, which is a major challenge for the university, according to a Hunter College spokesperson.
"One factor that may contribute to students not seeking help is the stigma around food security," said the spokesperson. "We are looking to normalize this as much as possible so that students feel comfortable seeking out help and utilizing these resources." One way the college reduces stigma is by introducing programs such as the Fresh Food Box to the entire student body, rather than a select population of students.
A recent Fresh Food Box contained Topaz apples, sweet corn, leeks, Yukon potatoes, honeynut squash, baby spinach and German white garlic. The package varies each week based on what Chloe Hirschharn, Hunter's GrowNYC site coordinator, orders from Greenmarket Co., a wholesale retailer that works with regional farmers. Ono remembers broccoli, cabbage, grapes, onions, cilantro and parsley in other Fresh Food Box bags.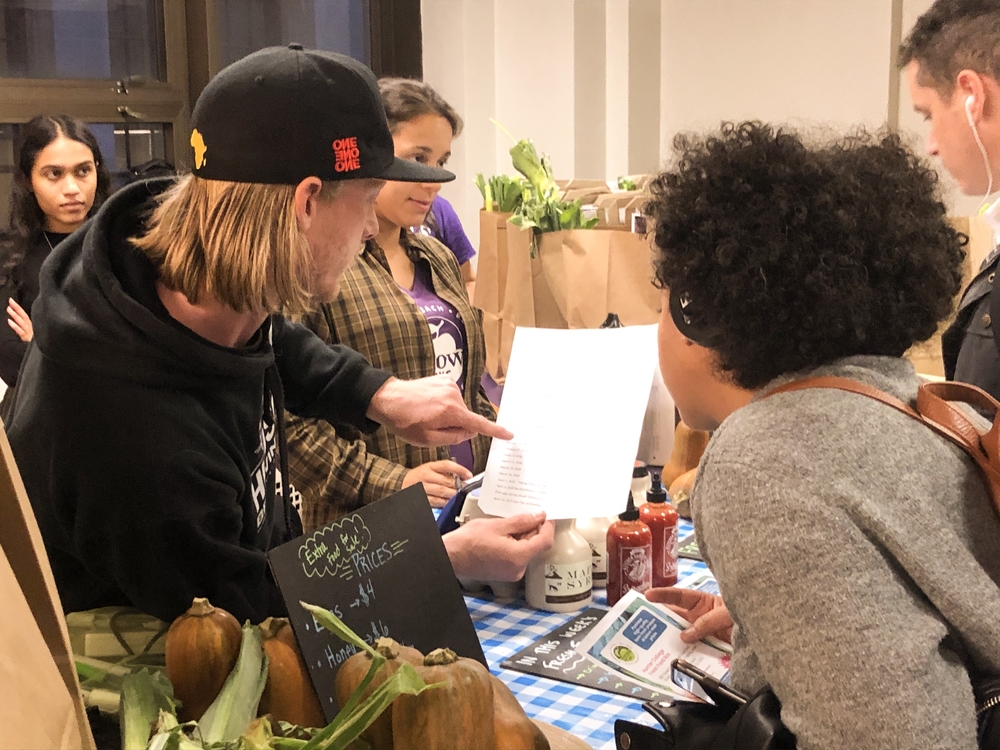 If students cannot afford a box, they can sign up for limited vouchers to fully cover the cost using a form on Hunter's website. Anyone can sign up for this voucher, and Hunter Student Services will determine need based on FAFSA or other income information listed on CUNYFirst, according to a Hunter College spokesperson. Hunter administrators will place students on a waitlist, since demand is high, according to a message listed on the form.
To reduce the amount of food insecure students at the Brookdale campus, Farmer's Fridge, a fresh food dispenser, opened this fall for dorm residents. Every day, a company representative stocks handmade salads, sandwiches, snacks, breakfast items and bowls into the vending machine. Prices range from about $3 for the small-sized snacks to about $8 for the heftier sandwiches. Farmer's Fridge placed a fridge at Brookdale because the dorm lacks any ready-made meal options and it saw an opportunity to fill the void, according to Rachel Rischall, a company representative.
"We want to make fresh, healthy food as accessible as a candy bar," said Rischall. "Based on the fresh vegetables, fruit, whole grains and fiber in our meals, switching one daily meal to Farmer's Fridge significantly realigns and improves the average diet."
The Farmer's Fridge team recently paused New York City operations after running at the Brookdale dorm for almost a month and a half. It has stopped stocking the fridge for almost three weeks now to introduce new items into the machine, according to Rischall. Operations should resume soon.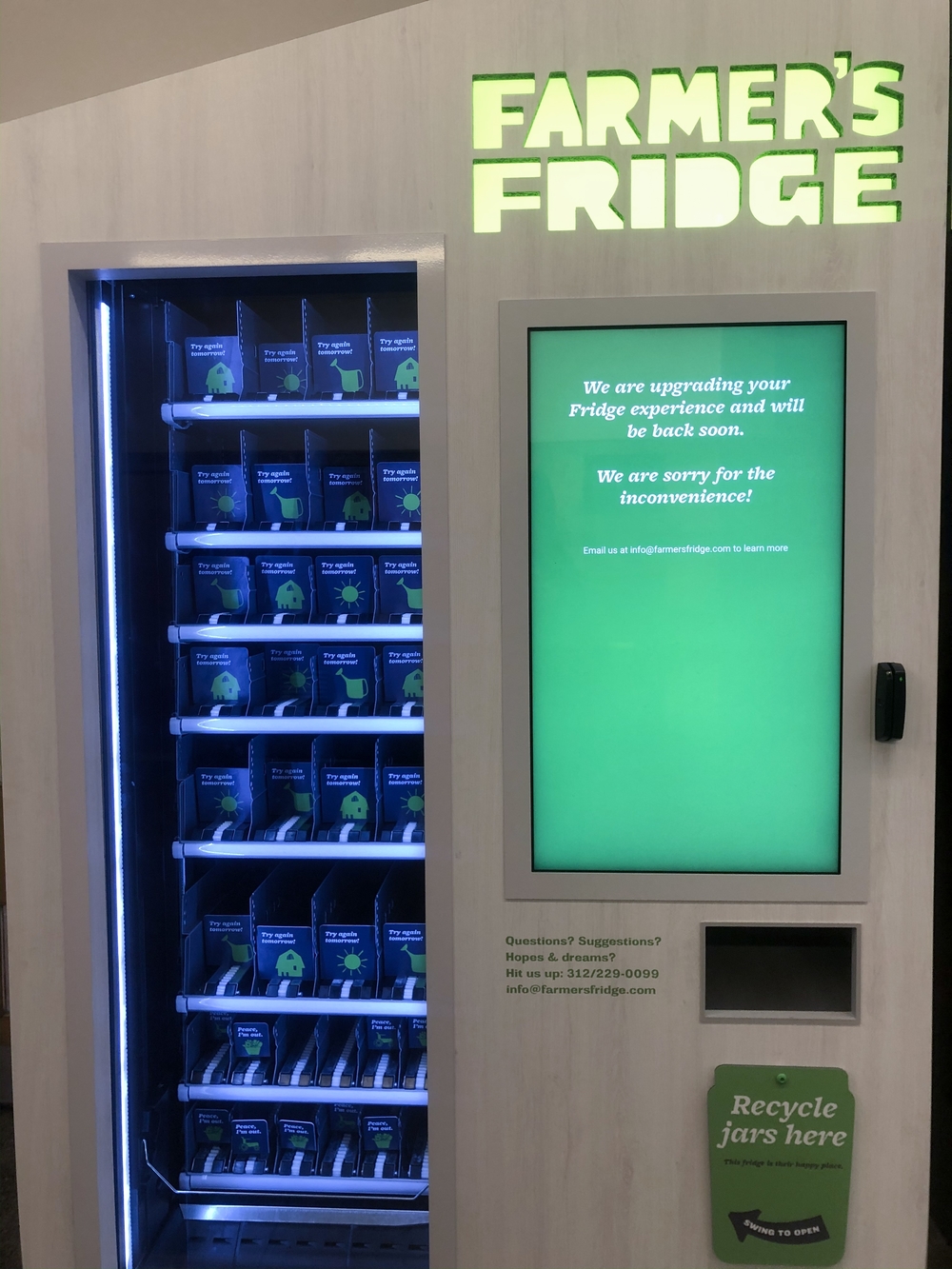 Hunter introduced the food pantry at the Brookdale dorm on 25th St. a year ago as another measure to improve students' diets. The Purple Apron supplies any matriculating Hunter student with bags of food. Someone can visit twice a week and receive nine items during each visit. Each visitor can take items such as canned tuna, boxed milk, canned carrots, long-grain rice, canned green beans, penne and lentils. There are also limited quantities of frozen items such as chicken drumsticks, chicken legs, tilapia fillets and ground beef.
The storeroom opens every Wednesday and Sunday from 11:30 a.m. to 3:30 p.m. for non-residents, and 1:30 p.m. to 3:30 p.m. for all students. Giovanna Bernal, who supervises the food pantry, said she sees at least 60 students using the resource each week.
"One girl brought her friend in and her friend was like, 'Oh, this is so cool.' She was like 'Yeah, it's because of the pantry that I was able to get my food and vegetable intake, or else I'd just be eating canned soup,'" said Bernal, a second-year master's student studying nutrition. "I think we could do better with commuters, we do good with Brookdale residents."
For residents such as Sarbjit Birdi, The Purple Apron provides a convenient location to stock up on groceries. Birdi's schedule makes it difficult to buy meals or ingredients outside. She usually has 30 minutes between classes or lab research to eat. However, after using the pantry a few times, Birdi said the The Purple Apron is a good attempt, but could be improved.
"They give things you would find at the dollar store, like it wasn't the highest quality food. It was pretty bad," said Birdi, a senior studying human biology. "I just don't know what to do with it most of the time. I think it hasn't worked out for me personally but I hope it's worked out for someone else."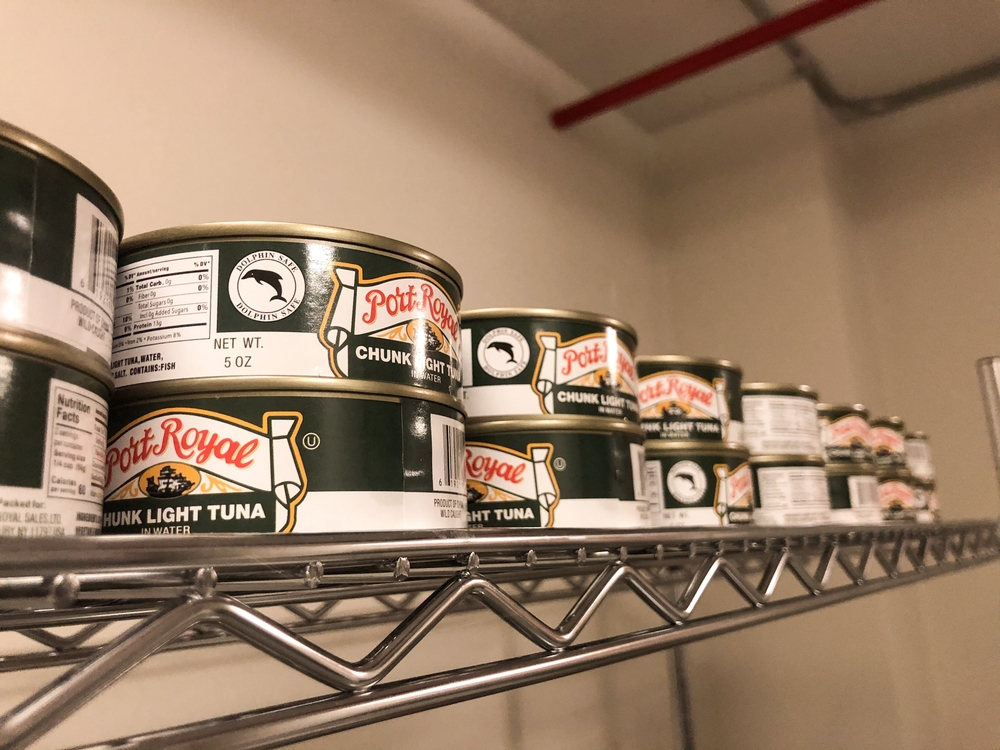 Other students say The Purple Apron's distance from the main campus causes accessibility issues. Anna Compton said a food pantry at the 68th St. location would reach more people.
"I just feel that Hunter's main campus is more central to all students, because Hunter does have multiple campuses, and students commuting from other boroughs can't always make it downtown to the Brookdale campus," said Compton, a sophomore studying political science.
Brookdale provided the room needed to house the pantry because of the limited amount of space at the main campus, said a Hunter College spokesperson.
The initiative that is located at the main campus, or the Fresh Food Box, will run until December 19. It will resume for the spring semester on February 6, 2020.