Friday morning at LaGuardia Community College was quiet except for the noise of clanging cymbals and vibrating saxophone coming from the poolside cafeteria in East building. The noise was made by a group of five women wearing brightly colored wigs and kimonos who came from Japan to perform the traditional Japanese Chindonya music in front of CUNY students and faculty members.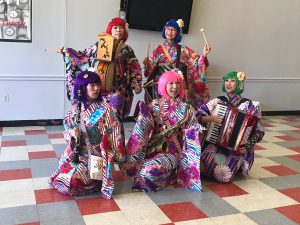 The event was organized by professor Hiroko Miyashita, who teaches the Japanese language at LaGuardia Community College. "I thought that it was really important for CUNY students to get some exposure to foreign cultures, especially because we live in New York City—a very diverse city," said the professor. "Not just the Japanese culture, but I want the students to ultimately end up respecting and appreciating all the different cultures that we have here in New York City." This event was done in collaboration with the band, Bentenya, who is currently on a U.S. tour. 
The two-hour event consisted of an hour of Chindonya performance and an hour of lecture about the history of Chindonya in Japan. Chindonya was initially a term used to describe street performers who were hired to advertise businesses in Japan. Having been part of the Japanese culture for more than a century, it is now considered an art. 
The instruments of modernized Chindonya bands usually include a saxophone, clarinet, accordion, a bass drum and the chin-don drum. In the middle of the performance, some of the students were chosen by the band members to try playing some of the instruments to the tune of traditional Japanese music.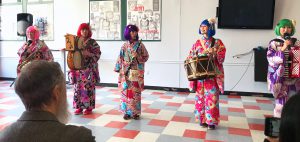 "This will be one of the most memorable moments of my college life," said a freshmen student at LaGuardia Community College, Elizabeth Vera. "I'm very glad that I came, because it allowed me to experience a part of someone else's culture without actually going to their country." Vera, along with two other students, got the chance to play the Chindonya instruments and wear the kimono, the traditional Japanese clothing.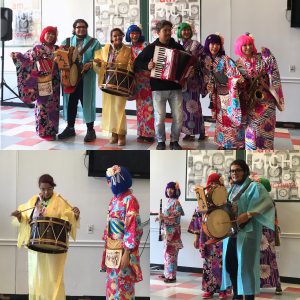 "I wish that more CUNY students would actively participate in these cultural events. Any [CUNY members] has access, but not every one of them comes," said Vera. By attending this event, Vera and a couple of other students said that they were encouraged to learn more about the Asian culture and possibly take some classes to study the Japanese language. 
"Even if just one student got to appreciate a different culture more through this event, then I think my goal has been accomplished," said professor Miyashita. In addition, the professor talked about the importance of promoting such multicultural events throughout different CUNY campuses. "I hope to open more of these events for our CUNY family in the future." 
The college holds an annual Japanese culture event in May that features a variety of Japanese food from different regions of the country, traditional Japanese music since the Edo period and popular Japanese animes. Events like this and others, can be found on the CUNY Calendar.