Chloe Castaldi, a senior student at Hunter,  is starving once her long, three-hour classes are over. Even then, she eats only a bag or pretzels to keep herself partially satiated or simply skips her meal.
Despite having enough money to purchase food at the Hunter cafeteria, Castaldi knows better than to waste her time searching for what she can eat there. The reason? Hunter cafeteria does not label all their foods with the specific ingredients list and the macronutrients information.
Castaldi suffers from GERD (gastroesophageal reflux disease), a.k.a. acid reflux. Patients with GERD must be extra cautious about what they put in their body, because the wrong food can irritate their stomachs and cause acidic stomach juices to flow back into the esophagus.
"It is really important that I know what's in my food, because so many things can trigger me like sugar, lactose and foods high in fat," said Castaldi. "For instance, I wish that [the Hunter cafeteria] would label if certain things are sugar-free like the pastries or if some things are lactose-free."
Castaldi is not the only college student who wants the school cafeteria to provide better labeling on the foods. Approximately half of college millennials said that they want their campus dining halls to label their foods with detailed ingredients list and increase healthier menu options, according to a 2014 study conducted by The Hartman Group.
Some schools, such as Syracuse University and University of Cincinnati, have already taken these initiatives to accommodate all students who follow a specific lifestyle diet in order to get fitter or avoid health complications. For instance, Syracuse University separates their gluten-free foods from those that aren't so that students who're allergic to gluten can go straight to the gluten-free section without having to check the labels to see if the food contains gluten.
Another Hunter senior, Jose Suarez, said that he doesn't buy fried foods from the Hunter cafeteria because he doesn't know if peanut oil is used to fry the foods. "I'm allergic to peanuts and one time, my body seriously reacted when I consumed something with peanut oil. So I avoid the fried foods in the cafeteria just in case they're also fried with peanut oil," said Suarez.
In addition to having peanut allergy, Suarez is also lactose-intolerant and vegan. According to Suarez, with all of these factors that restrict his diet, it is difficult for him to dine at the school cafeteria when the foods are not clearly labeled with all the ingredients and nutritional facts. "I get scared to eat unidentified foods, because I don't know how my body is going to react," said Suarez.
For students like Castaldi and Suarez, many college dining halls throughout the U.S. now cater to a wide variety of diets, such as vegan and locavore. Moreover, they allow students to customize their dishes. This is important when one-third of Americans—mostly millennials—follow a specific lifestyle diet, according to the International Food Information Council Foundation.
Although the system is not yet perfect, the manager of Hunter's dining services, Francesca Pacchioni, said that the dining services department is continuing to improve their services to better accommodate every student's dietary needs. For instance, they've changed their food supplier in the recent years because the new company catered healthier food options and labeled the packaged foods more specifically. "We had to pay more money for the new supplier, but we still decided to go with it," said Pacchioni.
However, it is sometimes difficult for Pacchioni to accommodate all students' needs while trying to budget wisely at the same time. For instance, Pacchioni said that one time, she ordered a large amount of vegan menus due to students' demand, but not many students actually ended up buying them. "What happens is we end up throwing all those food away and lose money. It is true that we care about the students but after all, this is a business so it's really hard to come to a middle ground," stated Pacchioni.
In terms of food labeling, Pacchioni said that the cafeteria does their best to be informative about the ingredients that go inside. "All the food that we get from other suppliers, we put the nutritional labeling if they're packaged."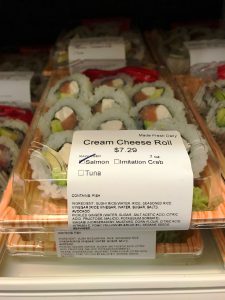 "As for hot food, the students can ask one of the workers, and they are required to explain to the students what go inside," said Pacchioni. However, some students have complained that not all workers knew the exact ingredients that go inside the foods when they were questioned.
In response to this, Pacchioni said that she will try to better inform all the workers about the foods that they serve so that they can answer all the students' questions and provide clearer labeling for the hot foods by placing signs and writing the ingredients next to the menu if many Hunter students find it necessary to do so. "I just wish that there was better communication between us and the students. I don't know exactly what they want," said Pacchioni.
"If they think communication is the problem, I wouldn't mind them having a suggestion box so that students can submit their opinions and complaints if they have any," said Suarez. "I think many Hunter students will appreciate that and that will actually show that the cafeteria [workers] care about the students' needs."