The winners of this year's Green Initiative included a survey of ways Hunter can add green roofs, a sustainability board game for students, and an app that directs students on how best to recycle. The projects, all proposed by Hunter undergrads, each received funding from the program and were presented during the college's Green Week in early May.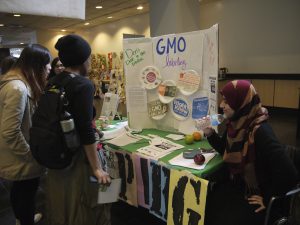 The Green Initiative Fund, also known as TGIF, is a grant program that provides money to students who come up with ways to make the campus "greener" or more environmentally friendly. The program has been around for eight years; 
The funds come from 1.25 percent of undergrad students' fees, providing approximately $40,000 for four to six projects and events per year.   
The first project was the Green Space Survey, a board game developed by City Atlas at Hunter which was done by Jaclyn Bernstein. It offered a fun and interactive way to promote environmental awareness at Hunter. 
The second project was a sustainability board game called "Energetic" that looked to reduce the impact of climate change by examining various of forms of energy and how we can use our energy resources in the most efficient way over the next 20 or 30 years. The game was introduced during Green Week by the Sustainability Project and students were able to play.  
The third project was a recycling app introduced by Helly Robinson from the Sustainability Project with consulting help by alumna Lena Suponya. This app is intended to show students how to properly recycle, and there was a beta form available for students to try out during Green Week.  
The main goal of TGIF is to get students to think more about ways the college can be more focused on environmental issues. TGIF also acts as a link to the different departments to provide mentors the students along the project process. One of the most successful projects was last year's Eco-Fashion Expo put together by Angela Chi, who gathered a group of fashion design students to repurpose clothing from thrift shops.  
TGIF also had a conference last year funded by a grant where students could promote their ideas along with other CUNY schools. 
"We think of sustainability in very broad terms," said Makia Harper, the grant administrator at TGIF.  
If you have a green initiative idea, you can submit your project by logging into http://www.cunysustainablecities.org. You can also follow them on social media @TGIFHunter #TGIFHunter