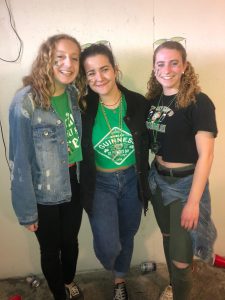 With a population of about 23,000, the fashion on campus is as unique as it is varied. And for many students, their fashion sources start with thrifting — an old practice that has seen resurgence in recent years among younger consumers.
For many Hunter students, shopping at thrift stores hits many of the issues that are important to them: sustainability, environmental preservation and saving money. Thrifting provides an affordable alternative to purchasing from the typical "fast fashion" brands marketed to millennials, such as Forever 21, Zara and H&M. But students say thrifting also allows them to stay up to date on the latest trends —  or better yet, create new ones — for a low price. 
"I started thrifting in high school for our senior week, and I realized that there's actually a lot of gems that can be found in thrift stores," said Alana Garcia, 20, who describes her style as "comfortable, beachy, natural."
Popular locations for Hunter students to thrift include L Train and Urban Jungle in Brooklyn and local Goodwill stores.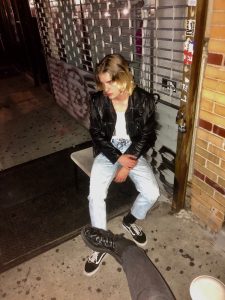 "I've been thrifting for the last few years," said Teddy O'Rourke, 22, who was wearing his favorite thrifted leather jacket with fringe detail. "It is very affordable and I've always liked clothes from the past. Sometimes they're made with better quality and have better fits. My grandma always thrifts so I think I get it from her."
In a study featured in the Atlantic Marketing Journal, respondents were asked to classify themselves as net shoppers (i.e., overall I shop more than I donate), net donors (i.e., overall I donate more than I shop). According this study. "college-aged students are more likely to succumb to social pressure, possibly limiting their thrift shopping."
But Hunter students said while there may be a stigma to used clothes, they are over it.
Aliana Jabbary, 19, says that while she was never embarrassed to go to thrift stores, she would often speak in code to keep it on the down-low.
"When my mom and I would talk about it in public, we would call it 'G.W.' instead of Goodwill so no one would know," she said.
Others, like 20-year-old Anna Conkling, have been thrifting since youth, so they had to get over any issues. 
"My family didn't have a lot of money when I was growing up. I've been thrift shopping my whole life," she says. "I do remember being like 7 and being really grossed out that I was at a thrift shop. It wasn't a cutesy vintage store — it was just really, really cheap shirts and pants."
As thrift stores gain in popularity, they are curating their selections to suit specific audiences. Students say Search and Destroy, a popular thrift store in the Village, is known for its dark punk aesthetic and caters to a "grungier" audience especially with its location on St. Marks Place.
Another element of thrifting that appeals to Hunter students is its positive impact on the environment. Kate Nakamura is a general media studies student who recently worked on a short documentary called "Buy and Sell," about her friend who purchases and resells vintage.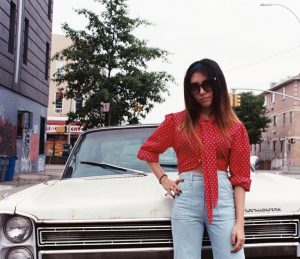 Shopping at thrift stores and encouraging others to do the same has a positive global impact on the environment, according to Nakamura. 
"There are landfills full of clothes because mass produced things don't get sold by the end of the season," the 21-year-old explained. "Also, you're supporting bad labor practices when you shop fast fashion."
Critics say that the "fast fashion" model of clothing production is exploitative and environmentally dangerous, with garments often produced by underpaid workers in unsafe working conditions. The high demands of fast fashion, and the industry's dedication to meeting those demands, have been the subject of much criticism. In 2015, "The True Cost," a documentary exposing some of the painful truths and hidden secrets of fast fashion, screened at the Cannes Film Festival. The film, which was released by Netflix, has influenced many shoppers to shop resale.
"I've worked in retail and it's horrible how fast fashion affects the environment. Big name brands know that outsourcing their labor and using non-sustainable fabrics is detrimental to the environment," says Jabbary. "And we know we shouldn't support them."
In addition, fast fashion's methods of production have played a significant role in water waste, experts say. Thrifting offers a much more ethical and environmentally conscious alternative to fast fashion consumption.
Despite the cons of thrifting – the time it takes to sort through pieces, and the competition for some of the good stuff – Hunter students say some of their best clothes were once worn by someone else.
"My favorite thrifted item still in my closet has to be an oversized green flannel I found somewhere in New Jersey near Long Branch. I've worn it as a flannel, a T-shirt dress, a work shirt, tucked into a skirt, and with a black band T-shirt underneath," said Samantha Finley. "Everyone has their 'safety blanket' in terms of clothing, and this is mine."