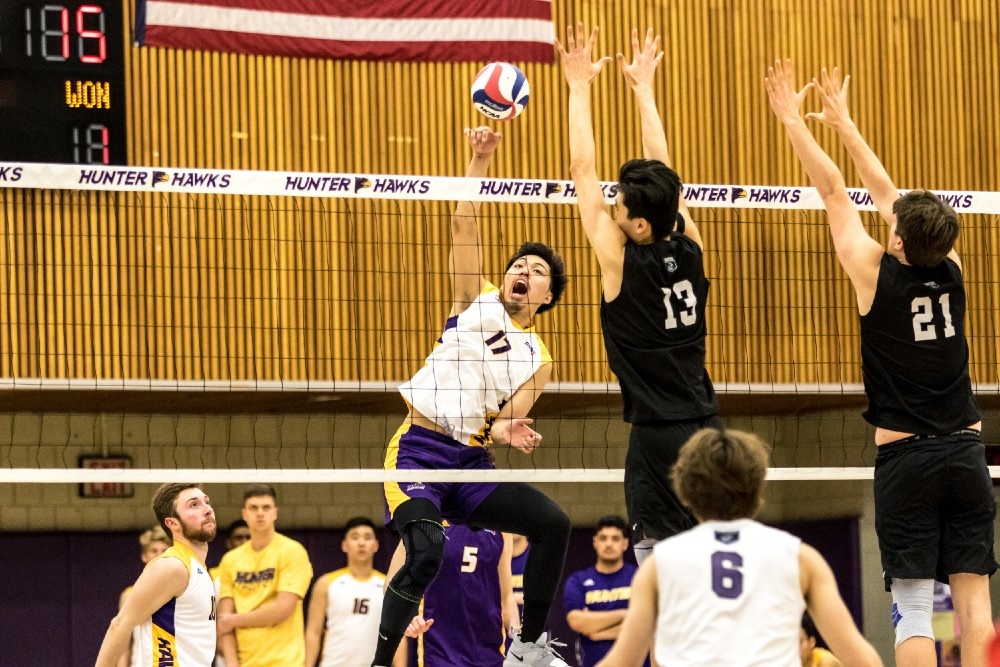 Sophomore year has been a breakout year for volleyball middle blocker Cyrus De Guzman, who has improved his hitting percentage from .270 in 2018 to .325 this season. As a result, on March 11, De Guzman won CUNY AC Player of the week. De Guzman was also named a CUNY AC First-Team All-Star on April 11.
"I'm actually very happy," he said, who at 6'5" is a classic middle blocker, "It was nice seeing my hard work finally pay off."
The Hunter Hawks men's volleyball team finished the 2018-2019 season as undefeated in the CUNY AC division. In a match at the Hunter Sportsplex, De Guzman had a team high 12 kills, five blocks and a hitting percentage of .45, helping secure the win for the Hawks. In that game, Guzman landed a crucial spike in the closing seconds of the game.
During their game against Baruch, De Guzman's level of play was recognized by the crowd as they chanted, "MVP."
"It's definitely nice to hear. It's nice to know I have fans," he said with a bright smile.
Coach Nicolas Sanchez says De Guzman's work ethic and passion are what distinguish his star middle blocker. He states that De Guzman is their most potent offensive middle and as a result decreases the difficulty of everyone else's job on offense.
"Just to see him improve and to get that award is the start of his list of accomplishments as a player," said Sanchez.
De Guzman says his father is his biggest supporter and helps him train during the off season, working on his weaknesses and polishing his strengths. His father would make the effort to take him to open gyms in the Bronx to work on his craft.
Effort is a recurring theme for the Hunter Hawks. Following every low or high, each Hawk is expected to walk away feeling like they did everything to achieve the team's goals.
"It's just to keep everyone leveled, trying to get everyone off that high if it's a good point, if it's a bad point we bring it in, we can talk it over," De Guzman said.
Taking on this new leadership role as an upperclassman in his second year has given De Guzman both confidence and respect for both his squad and volleyball itself. Developing a fiery passion that ignites a flame in his stomach, the game of volleyball has become a staple in De Guzman's life.
As the achievements begin to pile up, De Guzman only has one vision in mind and that's to win.
"I feel like this team has the pieces to be great," says Guzman. "Even now, honestly, if we go to the NCAA tournament, we can beat anybody."