Every month, a group of Hunter students who are part of a club called GlamourGals visit Visions in downtown Manhattan – a center for the blind and the visually impaired– to chat and build relationships with the members of the center. The idea is to build a bridge between generations – a link so they can better understand each other. And also, to bring a little joy and attention to someone's day.
"It's such a fun experience to attend these events, I love to spend time with them and hear their stories" says Danny Walker, a member of the organization. "It gives the residents something to look forward to every month. It's a really good thing."
The GlamourGals Foundation is a nationwide organization that has chapters in schools and universities across the country. Its mission is to provide companionship and complimentary beauty makeovers to those who live in senior homes.
The organization began when the founder, Rachel Doyle, met a severely depressed elderly woman in a senior home. She came to learn that nearly 60 percent of seniors living in these homes never receive visitors. She created the foundation so that the elderly feel a sense of companionship and also so the volunteers feel like they are doing something valuable.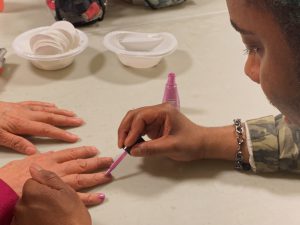 Visions at Selis Manor offers a variety of services for blind youth as well as adults. Located on West 23rd Street, it is a short distance away from many of the major train lines that allow for the members of the center to commute easily if they don't live on site. "I met a resident who lives in Forest Hills and commutes here to take classes. It's amazing how someone who has no vision is able to navigate around a big, busy city," says Duarte.
Karen Smith, a resident of the Visions center for more than 17 years, is a regular attendee of the GlamourGals events. "I take two classes here to keep me busy but I like to listen to baseball with my boyfriend when he visits me," she says. Smith was not always blind; she was the first in her family to attend college and even taught computing classes after graduating. After moving to the center, she said she can feel alone on the weekdays, since her boyfriend only comes to visit on weekends. It's situations like this where GlamourGals hope they can make a bit of a difference.
"I love putting on these events because every time I go, I learn something new," said Karen Duarte, president of the GlamourGals Hunter chapter. "Whether it's about people who are visually impaired, or different cultures or about their lives growing up, it's just interesting and helps you appreciate the little things."
The club meets once a month at the visions center to do makeovers for the residents. For more information or to be added to their mailing list e-mail ggathunter@gmail.com.