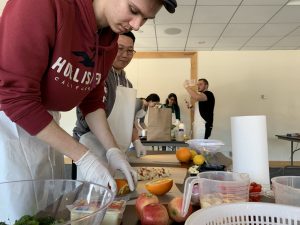 Hunter's first student cook-off kicked off what was intended to be an annual event in disastrous style. The competition, a team-based cook off sponsored by the Office of Student Activities and Grow NYC's Fresh Food Box program, was meant to bring attention to food insecurity faced by Hunter students. By the time the night was over, after facing power outages and schedule mishaps, a well-meaning event had turned into a debacle that may prove to be irredeemable. 
 Before the event was over, the hot plates used to cook food and boil water blew all the fuses and an entire side of the room lost power. The cooking stations were then moved to other parts of the room, until those fuses were also tripped and no food could be cooked further. Two hours later, the security guards were long past their scheduled time and most of the organizers had gone home.  
 After the event's eventual run time of three-and-a-half hours, Coordinator for Student Activities Dean Blake offered a parting appraisal. "This was my brainchild. It was a little deformed, but it'll get better with age." 
 When the event began, each team was equipped with GrowNYC produce and a budget to buy what they needed at the grocery store after the produce was revealed. The cook-off was initially supposed to be four teams, but after three dropped out, an odds–and–ends team was composed of solo applicants who wanted to compete but didn't have a team. This group, consisting of students Royce Chen, Karma Sherpa and Andrei Damon, took the moniker "Hot Tamales." 
The opposing team, composed of friends Dina Vokel, Nada Terra and Mersad Redzepagic, called themselves "Team Orange." They claimed to have never touched a cooking utensil between the three of them. "I wanted to have a laugh on a Thursday, and I recruited my two best friends," Terra confessed.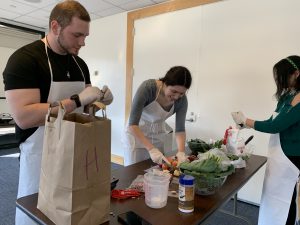 On Team Orange, both Chen and Sherpa claimed to only have ever cooked at home, while Damin worked in a professional kitchen. They planned to make a pasta salad and hash with home fries. "Pasta is great to be used as a base, and then you can add whatever ingredients you want," Damin said. "You can use your imagination." Given the semi-improvisatory nature of the event, this approach made sense.  
Team Hot Tamales planned to prepare a salad of greens and fruits, chicken and broccoli alfredo pasta, potato pancakes with cheese, and crepes for dessert.  
Blake, after giving the teams time to introduce themselves, gave them 45 minutes to prep, and 40 minutes to cook and present the dishes. This amount of audience downtime seemed like a lot for a sparsely attended event on a Thursday night, and proved to be such, especially when the prep time was inflated to nearly an hour. 
After prep, as the teams began to cook, disaster struck. The hot plates used to cook food and boil water were too much for the faculty dining room's electrical infrastructure to handle, and an entire side of the room lost power. The cooking stations were then moved to other parts of the room, until those fuses were also tripped and no food could be cooked further. This caused the cooking and presentation time to last nearly two hours.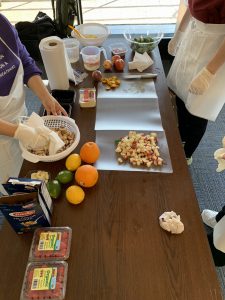 Both teams were forced to throw together what they had and present it to the audience members, each of whom possessed one vote to cast. The Hot Tamales fared better on the cooking front than Team Orange, as they were able to present their salad, potato pancakes with cheese, and crepes. Team Orange had to throw out all intended dishes and present a salad cobbled together of fresh ingredients.   
At long last, and after the security guard had threatened to leave her long overdue post, the votes were cast and Team Orange took the win in a shocking upset. Perhaps due to Damin's kitchen experience, or perhaps due to the Hot Tamales' self–professed amateurism; Orange's salad of broccoli, kale, collard greens, oranges, cherry tomatoes, onions and mozzarella cheese with a lemon vinaigrette took the crown.  
Before the event was over, Teneia Wooten, the head of the Office of Student Activities, abandoned the event. It had gone on too long for her to stay.
 The event had the additional purpose of highlighting food insecurity among college students. GrowNYC's Fresh Food Boxes provide 10 to15 pounds of fresh, sustainable, locally sourced vegetables in several locations around the city. In partnership with Hunter, they offer weekly bags of produce on campus every Thursday for $14, a far cry less than one would expect to pay at a grocery store.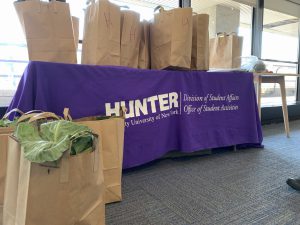 At the event,  Blake, acting as MC, frequently spoke about food scarcity and issues of affordability.  
"We're essentially trying to have students more involved with the food system on campus," Blake said. "We want to make them more aware of the food insecurity issues that students at Hunter face, and within CUNY at large." 
 As for next year, neither Blake nor Wooten would return calls. But GrowNYC will still be distributing free food on campus.